The size of a transit agency can determine just how much time the company is able to save by implementing professional transit software. This kind of application is not a one-size-fits all package, after all. Depending on an agency's size and number of passengers, transit organizations will need to tailor their needs. The following is a general guide which can be used to determine whether routing and scheduling software are necessary, broken down by small, medium, and large transit agencies.
Small agencies
Agencies with 5 vehicles or less are considered small agencies. While small agencies can certainly purchase and utilize transit software, doing so may not save a significant amount of time in the long run. Although reporting is valuable and often a key feature in comprehensive and modern software packages, small agencies typically don't need full blown solutions since they can manually perform many of the tasks themselves. Small agencies will require a bookkeeping tool, but this can be less expensive than a full-fledged transit software offering.
Medium agencies
The scope of medium-sized transit agencies is wide, and these agencies will have the most variability in terms of whether or not transit software is a necessity. Even at 10 vehicles, still within the realm of the term "medium-sized", an agency might be able to successfully schedule transit without using a dedicated software platforms. Just because an agency can successfully pull off their operations without using transportation software solutions does not mean it's the most efficient process. Agencies larger than 10 vehicles start running into scheduling and other bookkeeping issues that absolutely necessitate the need for software to manage dispatch functions.
Large agencies
To put it simply, large transit agencies that serve a metropolitan area or several smaller transportation networks within multiple communities absolutely need a transit software system to handle their scheduling and dispatch needs. Utilizing transit software is the only way to accurately manage scheduling, communicating with customers, and providing route-planning (along with everything else on the day-to-day agenda).
Ultimately deciding whether or not to implement transportation software is an agency decision. Smaller agencies might prefer the convenience that software offers even if it doesn't save a significant amount of time, and medium and large-sized agencies will appreciate the transit software's ability to handle all the logistics so that they can focus on more important matters. The best transportation software services are both flexible and scalable and can accommodate all sizes of transit agencies, depending on their needs.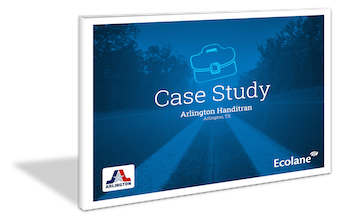 About the Author

Ecolane
Read Ecolane's blog articles for perspective, opinion and information on transit and paratransit issues.