Ecolane a dynamic provider of intelligent web-based transit scheduling software, today announced the release of its new platform, Evolution. This platform enables transit companies to manage, monitor, and assess system and employee performance in real-time.
"The world is evolving, including the transportation industry to become more autonomous, safer, and more efficient. Manual processes are becoming more automated every single day. Ecolane is part of the movement and positive change that can bridge the gap between scheduling, planning, and billing within organizations," said Spiro Gjorgjievski, President and Managing Director of Ecolane.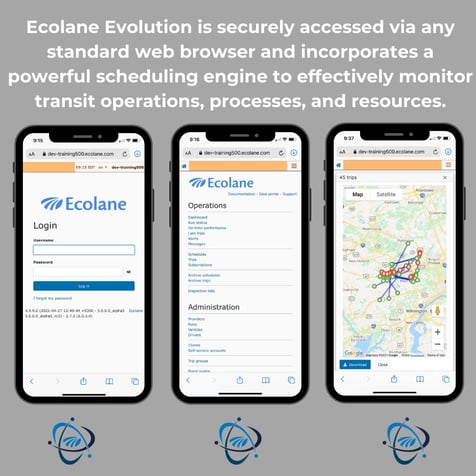 Ecolane's purpose in updating the user interface (UI) to Evolution is to update the legacy software that Ecolane customers use when scheduling and dispatching. Ecolane Evolution strives for excellence in design and functionality to reduce staff time spent booking reservations.
"Evolution is going to lead to a revolution not only for our current customers and those we are contracting with now but also for our industry. Ecolane has always had the best scheduling product available in the industry, and now we have an evocative user experience too. We are excited not only for this initial release but the continued evolution that this release births," said Jason Ellis, Vice President of Professional Services.
The improved UI functionality will mean agencies have more control over what users can access, allowing each agency to customize for their operations. Views within the Evolution platform are streamlined allowing schedulers and dispatchers to do core jobs within one page.
As transit agencies grow, they need a strong software platform like Evolution. The fully automated continuous real-time schedule optimization provides the most efficient scheduling and dispatching available on the market today.
Want to learn more about Evolution? Schedule a Demo!
Follow us on Twitter, LinkedIn & Facebook.
Press Contact: Ashlee Landes, ashlee.landes@ecolane.com
About Ecolane
Ecolane is created for transit people by transit people, to suit the unique needs of our customers. Serving as a catalyst at the intersection between demand-response and on-demand transportation, Ecolane software works by automatically adapting to changes in schedules and conditions as they are happening in real-time on the day of service. For more than 18 years, Ecolane has proudly served our partners and their communities while simultaneously expanding its reach. With more than 240 partners across the globe, Ecolane has proven to be the provider of choice for the future of the transit industry. For more information on how Ecolane can help your paratransit or on-demand transportation agency grow in ridership and increase operational efficiency, visit us at www.ecolane.com.
About the Author

Ecolane
Read Ecolane's blog articles for perspective, opinion and information on transit and paratransit issues.