Improving your microtransit and paratransit services doesn't mean you have to throw all of your processes out the window and start fresh. That would be quite the tall task!
Instead, you can keep your resources in place but make them better to move your operation into the modern age. Digitizing your management and automating processes for vehicle management, trip scheduling, employee performance management, and rider communication not only make your operation more effective, but you can take advantage of trends that more agencies are asking for.
There are more cost-effective ways to implement technology to optimize your transit agency's resources, and many of them can bring you a compelling return on your agency investment. You may even be able to find all of these features in one platform (more on that later).
First, let's quickly break down microtransit and paratransit to help you see if this is a solution your agency could benefit from.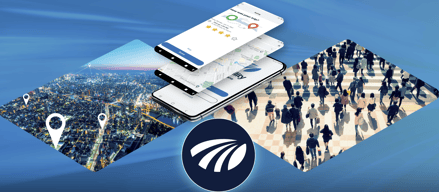 What Are Microtransit & Paratransit?
Paratransit is a demand-responsive mode of transportation for persons with disabilities and senior citizens who cannot use fixed-route public transit services to get from point A to point B. This means paratransit is a solution that must be customized to the local agency's operating rules and environment, and stay flexible to the needs of their individual riders. (We have a full post on how paratransit works if you're curious.)
As the name suggests, microtransit is the same service on an even smaller level, offering highly flexible routing and scheduling, most often allowing riders to book their own trips through mobile technologies, bypassing the agency's Customer Service department. Public transit agencies provide these services in addition to their mass transit services to serve the communities who want door-to-door service.
Both of these services involve small buses, vans, taxis, and more that will pick up and drop off passengers on demand. Microtransit and paratransit services provide an alternate solution to this segment of the population who are unable to use mass transit options or need more flexibility in their transit.
Now, let's take a look at how you can improve your transit services by optimizing your existing resources.
Existing Resources Your Agency Can Optimize With Technology
1. Ride Scheduling
Surely, you already have some kind of scheduling system in place. But, how is it working for you? Are rides ever missed? How long does scheduling take? Does the schedule sometimes become a bit of a mess? Is the paper trail hard to navigate at times?
There's a better way to manage your schedule thanks to paratransit and microtransit software. With a platform in place, your riders can book trips through your new self-service portal. Your software will handle the complex logistics of demand-responsive transportation while your dispatchers and drivers focus on providing reliable, efficient service.
Paratransit scheduling is complicated, but with software in place, you'll be able to adjust on the fly and accommodate your customer demands.
2. Vehicle Management
Paratransit passengers have special needs that require specific types of vehicles to keep them safe and comfortable during their trip. Common challenges dispatchers face is grouping nearby riders with similar vehicle needs.
Rather than manually determining what vehicle is required for each specific booking, you can let your software automatically choose the right vehicle to match up your riders. This saves your dispatchers valuable time spent scrambling to match passengers and vehicles as well as planning the route — your intuitive software can help choose the vehicle and map out the optimal route.
This will help ensure you always have the necessary vehicles and drivers available and ready to go and get your passengers from A to B as quickly as possible.
3. Faster Visibility into your Operation
With an automated paratransit solution in place, you will see real-time information reports that tell you how your service is performing. You can track data like when a driver shows up and departs, no-shows, cancellations, peak and low productivity hours, and other metrics. You can easily gain insight into how long a driver actually waited at the time a rider claims their bus never showed up for their ride. (This never happens, right?)
Visibility and predictive service metrics save your agency on costs as well as providing more accurate information to make better plans and decisions. You'll take for granted that running your reports is easy, and you can spend more time planning your next service expansion.
Summary
As you can see, you don't need to redesign your operations to improve your efficiency. Embracing technology and carefully choosing transit software that meets your needs will help you automate your processes so you can focus on other areas of your business.
Good scheduling software will allow your riders to book trips into a continuous schedule optimization engine that automatically responds to changes in real-time, and provides comprehensive tools and reports to better manage, forecast, plan, and make decisions. Ecolane Evolution does it all. Schedule a free demo for your transit agency today.
About Ecolane
Ecolane is created for transit people by transit people, to suit the unique needs of our customers. Serving as a catalyst at the intersection between demand-response and on-demand transportation, Ecolane software works by automatically adapting to changes in schedules and conditions as they are happening in real-time on the day of service. For more than 18 years, Ecolane has proudly served our partners and their communities while simultaneously expanding its reach. With more than 240 partners across the globe, Ecolane has proven to be the provider of choice for the future of the transit industry. For more information on how Ecolane can help your paratransit or on-demand transportation agency grow in ridership and increase operational efficiency, visit us at www.ecolane.com.
About the Author

Ecolane
Read Ecolane's blog articles for perspective, opinion and information on transit and paratransit issues.