Get your free demo today!
Increase transit productivity through intuitive dispatch and scheduling software. Watch the video to learn more.
Average increase of 44% in operational efficiency
Breakdown silos in organizations
Streamlines operations
Standardizes KPIs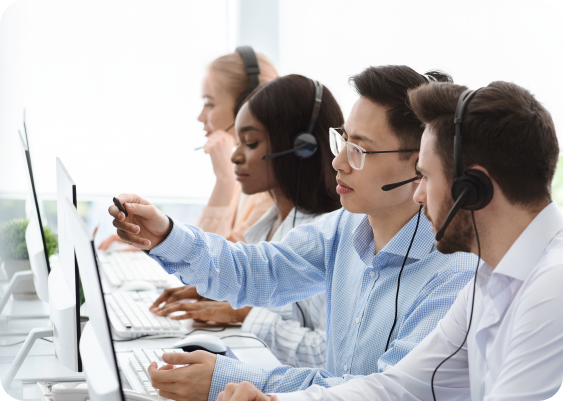 Million total rides provided
Million total passenger miles
Average increase in operational efficiency
Your turn key transit
solution package
As customer demands and budgets continue to shift, transit agencies must plan with the future in mind and take the necessary steps towards building more efficient and effective transit operations. Ecolane can help.

Full Transit Optimization Software

Dedicated Training & 24 hour Live Support BI Machine Learning & AI Anlyasis
During your live demo, one of our transit software specialists will:
Take the time to understand your agency's specific goals and requirements so they can customize your demo experience and show how to customize the software specifically for your agency.
Demonstrate how modern transit software can improve customer service, customer and driver safety, and resource management.
Teach you how to create optimized, real-time, logic-based schedules and custom reports.
Show you where productivity can be increased.
Answer any questions you may have about the platform.
Agency Benefits Using Ecolane
With advanced reporting functionality, transit managers can capture all the data for every vehicle, including rides per hour, run utilization, on-time performance, dead head, and other metrics. Transit managers also get 24/7 customer support with Ecolane.
System Security Management
Broker / Provider Integration
Financial Operations Management
Intelligent Operations Management
Fleet Management & Safety Features
Rider & Customer Experience Extensions
Trip Booking & Reservation Management System
System Security Management
Secure Data Transmission
Security Enhancements at Data Centers
As a hosted service for transit agencies, Ecolane Evolution provides significant cost savings with no compromises on security. Ecolane's hosted solution also minimizes staff costs, as there is very little involvement from an agency's IT group beyond ensuring internet connections remain active. Ecolane's Professional Services group has extensive knowledge and experience with the hosting environment, further ensuring the solution is configured to deliver the maximum performance.
Ecolane utilizes enterprise-class data centers that provide mission-critical networking, hosting, and communication services. The operation of the data center network and its associated services are monitored 24/7/365 and utilize redundant infrastructure as well as constructional protection to minimize the possibility of network interruptions. Uninterrupted power supplies (UPS), climate control, networking, fire protection, and suppression, raised semiconducting floors, and constructional / security protections are all put in place to guarantee enterprise-level support and attention. Have further questions about our hosting reliability, just let us know.
Professional Services
Discovery and Risk Assessment
System Set-Up and Customization
Dedicated Training Team
Live Support Team
Annual Review and Operations Audit
Test Server
Ecolane's professional services and implementation team conduct thorough agency audits and assess areas for optimization, specific to the way your organization is run. By reviewing performance metrics, Ecolane is able to identify areas for improvement and enhancement. At that point, our team will configure and customize your demand-responsive transportation (DRT) system.
Our professional services team is dedicated to ensuring a thorough understanding of the DRT system prior to your agency going live. We don't "implement and leave" without ensuring your comfort with the system. Even after training is complete and your implementation is live, Ecolane's support is continually available to answer any questions. We also perform annual reviews and performance operations audits, as needed, to ensure our customers are getting the very most out of their implementations. This is a differentiator for Ecolane in the way we work and our belief in the critical role our product plays in a customer's operations.
Broker / Provider Integration
Provider Portal
Brokerage Management
Centers Portal
TNC Integration
Brokers and coordinators have the ability to manage large fleets composed of many different providers and then track those vehicles in real-time. Brokers can choose to have the system assign trips based on the least-cost provider and providers can access a portal to accept and reject trips, make dispatch adjustments in real-time, and report essential changes.
Ecolane's brokerage solution builds upon the flexibility of the coordinator model while also integrating features designed to meet the complex billing needs of brokers. With this solution, brokers are able to blend their business seamlessly with additional provider contracts to achieve a truly centralized call intake and scheduling environment.
Learn more about Ecolane's Coordinated Transit / Brokerage solution.
Financial Operations Management
Billing and Payments
Faring and Funding Configurations
Compliance and Auditing Configurations
Ecolane's demand-responsive transportation (DRT) software does much more than automated scheduling. It also has a configurable billing module for calculating trip fares, transportation provider costs, and funding source costs. It will calculate these costs seamlessly, so there is no manual work done by the agency or by the rider.
At the time a rider schedules a trip, the system will automatically calculate the rider fare based on the location, distance to the destination, and number of riders. The charge is then applied upon actual boarding. Since this is all performed automatically on the back-end, the agency can concentrate on optimizing their operations and servicing as many riders per day as possible while not having to worry about payment collection. The system also has compliance and auditing functions in place to ensure that full payment is applied, as every ride scheduled has its unique set of charges depending on the nature of the trip and the number of passengers.
Intelligent Operations Management
Customer Feedback Management
Custom Configurations
Real-Time Report Generation
Customer Profile Management
Electronic Signature Capture via MDT
Ecolane's DRT platform handle the scheduling and dispatching of trips and pass them off to mobile data tablets (MDTs) installed in vehicles. The solution provides real-time information updates to drivers including same-day schedule changes due to trip cancellations, no-shows, or even traffic congestion. The result is maximized efficiency and optimized productivity in the agency's use of their resources.
With the automated DRT solution, transit agency employees are able to focus their efforts on service monitoring and proactive problem solving in order to provide the highest quality of service for their riders. Continuous, real-time data collection from the MDTs also enable accurate reporting and billing reviews at any time.
Additionally, the web-based user interface provides agencies with comprehensive information regarding their service as well as the tools needed to effectively manage and monitor their operations.
Fleet Management & Safety Features
Vehicle Monitoring
Dynamic Navigation
Two-Way Messaging via MDT
Vehicle Maintenance Functions
Pre & Post Trip Inspections
Ecolane's demand-responsive transportation (DRT) solution employs automatic vehicle location (AVL) technology via GPS. Schedulers and dispatchers can track and monitor any vehicle within their fleet in real-time and see a comprehensive list of data, such as:
Vehicle location
Where a vehicle is headed
If a driver needs to change course to accommodate a same-day trip, cancellation, or no-show
What time a driver picked up and dropped off a rider
Much more...
The mobile data tablet (MDT) makes it easy and seamless for drivers to adjust to changes in the day. In addition, Ecolane offers premier pre and post-trip vehicle inspection software that measures the internal and external conditions of a vehicle, operated by the driver and run on the MDT before departure for the day and after the vehicle is shut down for the night. The performance measurements align with municipal, state, and federal requirements, and agencies can get deeper insights into the vehicles' conditions over and above those requirements. The software is customizable, so agencies can require other items to pass inspection prior to departure or shutdown. This commitment to safety is one more way Ecolane and its agency customers place people first.
Rider & Customer Experience Extensions
Self-Service Web Portal
Self-Service Mobile App
Alexa Integration
SMS Arrival Notifications
Ecolane IVR Hosted Solution Interface
Ecolane delivers your riders a world-class user experience by ensuring they not only have mobility and independence, but that they have control of their own schedules. We offer rider-facing tools such as a self-service portal they can access directly online, a mobile app, and even a skill for Alexa devices that utilize interactive voice response (IVR) to enable self-bookings. This allows riders the freedom to use the methods they're most comfortable with, thereby improving their customer satisfaction.
Agencies also benefit from these user-friendly options. Avoiding being inundated with phone calls from riders to book trips or to simply check the status of their vehicles saves a great deal of time. It allows schedulers and dispatchers to focus on broader issues while customers enjoy the ease and convenience of getting answers without extended time on the phone (and possibly missing their pick-ups). Using GPS technology, riders are able to see the location of their vehicles on the app up to the moment of arrival. They also have the ability to receive arrival notifications on their phones when the vehicle is approaching the pick-up location.
Trip Booking & Reservation Management System
Automated Real-Time Scheduling & Dispatching
Completely Web-Based
Group Trips And Batching Functionality
Flex Routes & Fixed Route Schedule Lookup w/ GTFS Integration
Trip Importer
Eligibility Management
The Ecolane demand-responsive transportation (DRT) software makes scheduling and booking trips easy and seamless. Our cloud-based system enables your riders to schedule trips by phone, user portal, or even via our mobile app. Once a trip is scheduled, it is automatically fit into the manifest, including trips scheduled on the day of service. Reservationists, dispatchers, and drivers are able to view the update instantaneously.
Group trips and batching functionality enable riders to specify the number of people taking a trip so the driver will always know if they are picking up one person or more when it appears on the vehicles mobile data tablet (MDT).
Schedule Your Demo Today!
Trusted by
300+

successful agencies

With the belief that great partnerships stem from great relationships, Ecolane works to build a foundation of trust and accountability with every client we serve. Strong relationships are the backbone of our business, and our goal is to create an environment that promotes input and collaboration from our partners so that we can continue to improve upon the quality of our products and services.
"We see real-time information reports that tell us how the service is working."
-Austin O'Dell, Santa Maria Area Transit
Prior to Ecolane, everything was done on paper, so we had a fear of switching to something that we didn't have complete control over. Quite frankly, it turned out much better because it was easier to schedule trips than doing them manually."
-Alan Blahovec, Westmoreland Transit Authority