Jason Ellis, our Vice President of Professional Services, affectionately known as "VPoPS," passed away suddenly on Sunday, August 29th after a brief illness.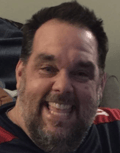 Jason was a pillar of the transit industry. His work ethic was only exceeded by the passion he had for empowering dozens of underserved populations to reach their goals of mobility independence.
"Jason's desire to deliver the best possible customer experience led him to become a zealot in the transportation industry. His understanding of our software, as well as his persistence in advocating for persons with disabilities, created a powerful mission-oriented team. A great coworker, leader, and Ecolane superfan, he will be missed by all," said Spiro Gjorgjievski, President of Ecolane.
Jason had a knack for solving small problems and applying big solutions. For example, he was instrumental in Ecolane's successful statewide software implementation for the Pennsylvania Department of Transportation (PennDOT), a partnership that continues to expand PennDOT's visibility into PA transit and improve services.
Jason was responsible for delivering millions of dollars in projects, the growth of a world-class implementation and support department, and emboldening his team to perform at their absolute best. Everyone, from customers to colleagues, could count on Jason's operational excellence.
"Jason took a chance on me because he saw potential and worked to pull that out in my professional career. So many of us are at Ecolane because of Jason," said Matt Taylor, Director of Training & Implementation.
Yet all his accomplishments in his 20-year transportation career were secondary to his dedication to his family. Jason leaves behind his wife and four children. His face lit up whenever he talked about his kids and their personal accomplishments. Jason was known throughout the community for coaching basketball and little league teams, sometimes several at a time. He often left work early to help shuttle kids to and from games and practices, and then pick up with work again late in the evening.
You could often find Jason eating at his favorite restaurant, Mission BBQ or Chick-fil-A. The staff at both places knew him by name and often guessed his order ahead of time. In one of his last visits at Mission, he was having a celebratory lunch with two colleagues.
"Little did I know I was celebrating everything Jason and I had accomplished as a greater whole. We connected every day, many nights, and weekends. We relied heavily on each other. It seemed that we would often connect after hours due to the busy workday and I saw how he connected with his family and just handled everything with grace," said Devin Dice, Senior Systems Administrator at Ecolane.
We feel honored that Jason was driving customer-focused change at Ecolane for close to 10 years and managing end-to-end care for our partners across the US, and around the world. His loss will be felt for years to come. We offer our sincerest condolences to the Ellis family.
-Ecolane-
Ecolane is created for transit people by transit people, in order to suit the unique needs of our customers. Serving as a catalyst at the intersection between demand-response and on-demand transportation, Ecolane software works by automatically adapting to changes in schedules and conditions as they are happening in real-time on the day of service. For more than 18 years, Ecolane has proudly served our partners and their communities while simultaneously expanding its reach. With more than 250 partners across the globe, Ecolane has proven to be the provider of choice for the future of the transit industry. For more information on how Ecolane can help your paratransit or on-demand transportation agency grow in ridership and increase operational efficiency, visit us at www.ecolane.com.
About the Author

Ecolane
Read Ecolane's blog articles for perspective, opinion and information on transit and paratransit issues.