It has been a thrilling start to 2020, full of exciting achievements and growth. We have set our sights on achieving aggressive objectives this year, but wanted to take time to reflect upon 2019 and the services we provide our partners and their communities.
We are proud of many of the initiatives that we launched and we are looking forward to what 2020 brings!
Powered Nearly 13 Million Trips in 2019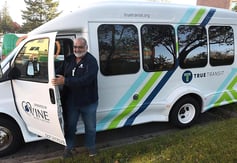 Millions of people around the world rely on their transit providers to unite them with friends and family, to go shopping, to attend worship services, to see a doctor, to do their banking and more. We are fortunate to play a role in ensuring riders get to their destinations and back quickly, timely, and safely.
By offering same-day service functionalities, riders are free to be spontaneous and in 2019 we powered 12,763,973 trips accounting for over 139,018,755.5 miles traveled—an average of 10.89 miles per trip.
Join our growing ecosystem and request a demo today.
Launched Ecolane University

Ecolane University was launched with the notion that through a learning management system (LMS), transit agency professionals could receive quality, ongoing training to stimulate individual and organizational growth. Proving to be an invaluable tool, we have already issued 762 certificates of completion.
Sign up today and get started on your certification!
Won 40 New Contracts and Facilitated 29 Implementations Worldwide
Across the U.S. and internationally, transit providers of all types are partnering with Ecolane to employ automated, continuous real-time optimization to their riders. By providing a simple dispatching and scheduling solution, riders are able to book a trip mere hours in advance and be assured they will reach their destination safely and on time.
In 2019, we secured 40 new contracts, growing roughly 25% year-over-year. In addition, last year we completed 29 software implementations that helped improve the overall operational efficiency of the agency and the rider experience. Ecolane also surpassed the threshold of 10,000 mobile data terminals (MDTs), which resulted in improved driver job performance as well as fuel and maintenance cost savings to the agency.
Social Media Growth
Transit companies and riders alike are discovering the benefits of following Ecolane on social media. As many of you know, we are present on Linkedin, Twitter, Facebook, and most recently, Instagram.
By following us on these networks, people are able to stay informed with the latest company news, new Ecolane publications, industry trends, and product solutions development. We gained 415 social media followers in 2019 and we are look forward to the ongoing discussions within the Ecolane community.
Looking forward
As a business that values personal relationships, we are humbled to be the partner of choice for many agencies across the globe and take pride in providing the best service to support their teams and riders. We look forward to another fruitful year with our partners and we are eager to see what 2020 holds.
About the Author

Ecolane
Read Ecolane's blog articles for perspective, opinion and information on transit and paratransit issues.