The year 2020 has seen its fair share of changes due to the COVID-19 pandemic. Transit agencies must contend with keeping both their riders and staff safe while providing effective and equitable transportation. Still, agencies must persevere and provide services to their communities so that people have access to transportation. Though it has been a tough year, Sacramento Regional Transit District (SacRT) has made positive changes; switching to Ecolane dispatching software is just one example.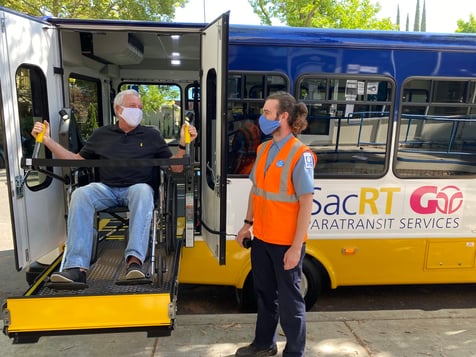 SacRT is the 2019 national TSA Gold Standard Security Award recipient for the highest standard of excellence and is the regional transit provider in the capital of California operating over 80 bus routes (fixed-route), 43 miles of light rail serving 52 light rail stations, Microtransit service, and ADA Paratransit and Demand Response service all within a 400 square-mile service area throughout Sacramento County.
We recently had the chance to interview Carmen Alba, Acting VP of Operations at SacRT, to discuss how the Ecolane solution helps with their paratransit operations.
"What made Ecolane different was the optimization," said Alba, "The real-time optimization is just very different, and it allows us to be more efficient."
Ecolane's software continuously rebatches every couple of minutes to meet the change in demand for transit on the day of service, referred to as real-time optimization.
"That's Ecolane's secret sauce, and what makes their service so great," said former APTA Chairman and CEO of various large APTA transit sites, Mike Scanlon.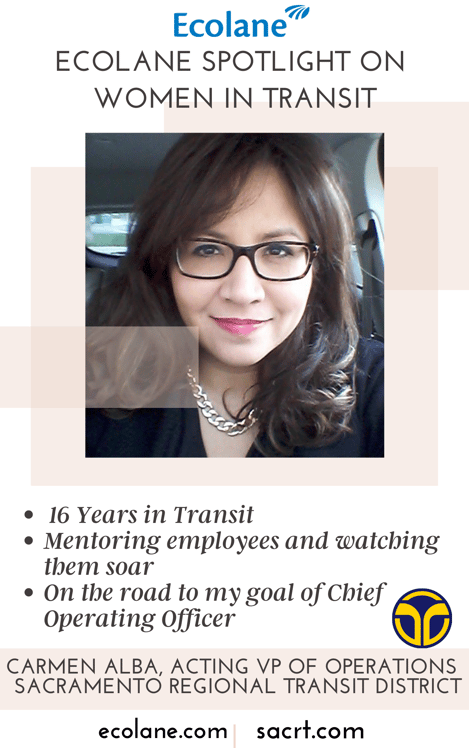 SacRT, like many agencies currently, face formidable challenges. One notable example is that, before Ecolane, SacRT contracted out the ADA and Demand-Response service. SacRT needed a more robust system to meet its demand, especially since it involves different trip and fare types. It was essential for SacRT that Ecolane be able to account for that easily and efficiently.
"The training staff was actually really, really helpful because they understood exactly what we meant and what we needed. We needed to map everything out correctly to each service area, and they did that for us," said Dan Thao, Director of Community Bus and Contract Services.
Ecolane's training team does not just stop after the software implementation is complete. They keep going to assist our customers and go beyond the call of duty.
"The team still continues to work with us after the launch even to this day, we continue to have regular communications with the startup team, the training team and the support team," said Thao.
This year, another challenge facing the team was the software implementation and phasing off the legacy system. This was particularly difficult due to the coronavirus pandemic. Ecolane prevailed, however, and was able to send several staff members who volunteered to assist and support the SacRT staff.
"It was extremely helpful to have the Ecolane staff on-site for the implementation, especially during Covid-19. All of the staff provided great insight and helped build our baseline for new KPIs," said Alba.
"Efficiency is very important, especially during Covid-19, where we need to be extremely careful with our resources," continued Alba. SacRT was able to raise its pre-Covid Rides Per Hour (RPH) from 1.6 to 2.09 during Covid-19. That is an efficiency gain of 30%. SacRT also continues to have a 97% or better on On-Time Performance.
While this year has presented many challenges, we are grateful for the opportunity to bring a real-time scheduling solution to SacRT's paratransit operations and really showcase what Ecolane, both software, and staff, can do. This year marks the 30th anniversary of signing the Americans with Disabilities Act (ADA) into law. Throughout this 30th anniversary year, the Civil Rights Division recognizes the many ways in which the ADA has transformed American society and enabled a generation of Americans with disabilities to thrive. Everyone at Ecolane and SacRT advocates for those who rely on public transportation for mobility. SacRT will continue to do everything it can to protect its employees and riders during the pandemic and beyond. For more information about SacRT visit their website here.
-Ecolane-
Ecolane is created for transit people by transit people, in order to suit the unique needs of our customers. Serving as a catalyst at the intersection between demand-response and on-demand transportation, Ecolane software works by automatically adapting to changes in schedules and conditions as they are happening in real-time on the day of service. For more than 18 years, Ecolane has proudly served our partners and their communities while simultaneously expanding reach. With more than 200 partners across the globe, Ecolane has proven to be the provider of choice for the future of the transit industry. For more information on how Ecolane can help your paratransit or on-demand transportation agency grow in ridership and increase operational efficiency, visit us at www.ecolane.com.
About the Author

Ecolane
Read Ecolane's blog articles for perspective, opinion and information on transit and paratransit issues.