It was a hot Texas night 15 years ago when then 20-year-old Olivia was having a good time with her friends. Without a care in the world, she went on an outdoor excursion in the back of a pickup truck. While off-roading, the terrain became rugged and to her shock, she fell off the back of the truck!
She suffered a traumatic brain injury. After almost certain death, it was clear to others that life as she knew it was over. Not to Olivia! She was too "stubborn," as she put it, so she persevered. She went on to successfully complete physical, speech, and occupational therapies over the course of a year. Her recovery was long and difficult, but she was determined to succeed and live life to the fullest.
Once completed, she could do almost everything she could before, except for one thing in particular—drive. How would she get around? How would she go to work? There was so much uncertainty to deal with, especially at a tender age. But Olivia would not accept an inability to drive to prevent her from having independence and mobility.
A Transit Solution at Her Fingertips
A social service she and her mother were working with referred Olivia to Arlington Handitran—a transit service provider that provided mobility options. Since that time, she has been proudly using their services. She is impressed by their excellent customer service, their professionalism and the courtesy of the drivers. But it wasn't until 2017, when she was introduced to the Ecolane mobile app, that she really found her independence.
Ecolane's transit software gives her the power to control her schedule. She now uses it every day and could not imagine her travel experience without it.
"Booking trips is easy and I can even schedule for the same day, which is really nice. A lot of places don't let you do that," said Olivia.
With the Ecolane mobile app, Olivia also checks her vehicle location prior to pick-up right down to the number of stops in advance prior to her pick-up. She frequently uses the app's Arrive By feature so she knows exactly when to expect the driver. This feature shows changes to the Arrive By time if the driver experiences any slowdowns or is able to arrive earlier than expected—all automated and in real-time. In addition, Olivia can follow the vehicle on the map and receive push notifications of any changes.
"Before the app was available, I called every time I wanted to book a trip or confirm a pick-up time. Phone calls could last up to an hour, so it took a lot of my time. The app is a real time-saver and if my circumstances change prior to a scheduled trip, I can conveniently cancel or reschedule," Olivia explained.
Olivia and Handitran Exceeding Expectations Together
Olivia is happy to say that pick-up times and drop-off times have always been reliable. She commends Arlington Handitran for the courteous and helpful drivers. "Sometimes the drivers are too helpful," she joked. "They don't always realize just how capable I am, but that's a positive thing. I've developed great relationships with all my drivers and once they know me on a personal level, it enhances my overall travel experience."
Olivia vowed at the time of her accident, all those years ago, that her life would not come to a standstill. Indeed, with the help of Arlington Handitran powered by Ecolane scheduling software and the convenient mobile app, she has met the expectations she put on herself.
"The Ecolane app has given me freedom. I can plan my trips when I want, including same-day trips, and I love having the flexibility to travel when I want to, even if it's a spontaneous excursion. Sometimes you wake up in the morning and just feel like taking a ride and meeting up with friends or going to shop. With the Ecolane mobile app, I can do that."
--
To find out more about the Ecolane mobile app, watch our short, informational video or schedule a hassle-free demo today.
About the Author: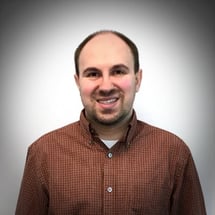 Michael Fino is Ecolane's marketing analyst. He is a creative communications expert, responsible for writing, producing, and managing a variety of marketing, educational and PR content in addition to supporting business development through inbound marketing and lead generation efforts. He came to Ecolane with more than nine years of experience in the marketing and communications field. Michael graduated from King's College in Wilkes-Barre, Pa and later went on to earn his Master's in Strategic Communications with a focus in PR and Journalism from Villanova University. His weekends are often spent at fairs and festivals, going to art and history museums, or kayaking with friends.