You may have parents or grandparents who need some assistance to age in place. If you don't, you probably know someone who does. Most people want to continue to live as independently as possible for as long as possible. Not being able to go and come as needed is a big part of that loss of independence. Besides a loss of independence, here are what the elderly fear.
Declining health
Insufficient money
Unable to age in place
Unable to manage daily living activities
Unable to drive
That's why the Programs of All-Inclusive Care for the Elderly (PACE) exists. The goal of the program is to support individuals as they age so they can continue to live in their communities. Mobility is one way to help people remain at home.
PACE: A Brief Overview
The PACE Model of Care began in the early 1970s, when a San Francisco community saw the pressing need for long-term care services for families who immigrated from Italy, China, and the Philippines. William Gee was a public health dentist who headed a committee to investigate solutions. The committee hired Marie-Louise Ansak to lead the effort, and the group formed a non-profit corporation to provide a community-based system of care.
In 1990, the first Programs of All-Inclusive Care for the Elderly (PACE) received Medicare and Medicaid funding. In 2006, a final resolution was passed, so PACE-based organizations began to appear in other states. Today, PACE provides comprehensive medical and social services covered by Medicare and Medicaid to older adults still living in a community.
Services
PACE benefits include, but are not limited to, all Medicaid and Medicare-covered services, such as:
Dentistry
Emergency services
Nursing home care
Nutritional counseling and meals
Adult daycare
Occupational and physical therapy
Prescription drugs
Primary care
Recreational therapy
Social services
Social work counseling
Transportation
Home and hospital care
Laboratory/x-ray services
PACE also includes all necessary assistance to improve and maintain a person's health as determined by a PACE team.
PACE Teams
Every client is managed by a team of professions. This PACE team assesses an individual's needs, creates a care plan, and delivers services. Minimally, the team is composed of the following:
PACE center supervisor
Personal care attendants
Physical therapist
Primary care physician
Dietitian
Driver
Home care liaison
Nurse
Recreational therapist or activity coordinator
Social worker
Occupational therapist
The team approach ensures a comprehensive medical and social plan to enable participants to remain in their communities. Transportation is crucial to the success of any PACE-based care plan.
Transportation
A PACE organization is a non-profit private or public entity engaged in providing PACE health care services. To qualify, organizations must apply and meet a set of qualifications. Once approved, an organization can begin to provide PACE services. A necessary part of PACE services is reliable transportation. Such a system can help minimize a client's sense of isolation, improve their overall health, and maintain a higher quality of life.
Minimize Isolation
Isolation not only impacts one's mental health, but it can also impact one's physical health. Research has shown that isolation can lead to:
An increased risk of cardiovascular disease
Increased risk of type 2 diabetes and obesity
Abnormal activity in the endocrine system
Reduced immune system function
Loneliness can also decrease the quality of sleep and, in extreme cases, lead to death. Providing transportation to the elderly means giving them the social interaction they need to live a fulfilling life.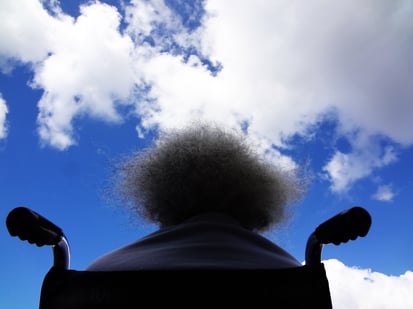 Improve Overall Health
To stay healthy, seniors should try as many preventative measures as possible to address their primary health concerns. Ten of the most common health concerns for the elderly are:
Arthritis
Alzheimer's Disease
Osteoporosis
Heart Disease
Respiratory Disease
Falls
Cancer
Diabetes
Obesity
Flu and Pneumonia
Proper nutrition and exercise can help address arthritis, osteoporosis, heart disease, obesity, and diabetes. Making sure that seniors have access to hot meals, nutrition counseling, and even grocery shopping can go a long way to letting them age in place. Classes on meal preparation and menu planning are great ways to stay social and healthy. Without transportation services, few of these activities would be possible.
Transporting seniors to physical therapy or exercise classes can help with obesity and balance, making it less likely to have a life-changing fall. Even trips to a healthcare provider for flu or pneumonia shots could be a problem if transportation services are not provided. If seniors do develop a more life-changing health condition, knowing they have access to transportation to get them to and from appointments lessens the stress of a life-changing condition.
Enhance Quality of Life
If seniors are socially active and take care of their health, they are sure to enjoy a better quality of life. But, there are more ways to ensure that the aging population maintains its quality of life. One way is to make sure they feel helpful, needed, and self-sufficient. Taking them to buy groceries, go to the bank, or take care of their own errands is a great way to make the elderly feel independent. Some PACE programs offer these services as a way to help seniors remain in their communities.
Social interaction is essential for seniors to enjoy a better quality of life, but transportation can be a problem. With PACE services, seniors can be transported to activity centers to visit with friends. They can participate in activities such as dancing, woodworking, or crafting. The more engaged the elderly are, the better their quality of life.
Encouraging the elderly to read, work on puzzles, or take classes keeps them active and socially engaged. Transporting them to the library or community center is a great way to keep seniors occupied. Social interaction is vital to a positive quality of life.
Demand-Response Transportation
Creating a more livable community for the aging population is one of the goals of PACE. To prevent isolation and improve overall health, demand-response transportation services can provide seniors with an enhanced quality of life. They don't have to worry about how they can participate in community life if they have the benefit of PACE transportation services.
Without such services, retired seniors or those living on a fixed income may find it cost-prohibitive to pay for traditional transportation services. In some cases, they may miss or cancel crucial appointments because of a lack of affordable transportation. PACE's goal is to see that seniors have whatever they need to be able to age in place.
Coordinating transportation services for a diverse population can be challenging. It isn't easy getting the right transportation to the right people at the right time. Technology can help. With a centralized database and a mobile data terminal, any vehicle in a transportation fleet can be monitored throughout the day. Not only can vehicles be monitored, but they can be re-routed as needed. This capability ensures that those seniors relying on you for transportation can be assured that your organization will be there on-time every time.
About the Author

Ecolane
Read Ecolane's blog articles for perspective, opinion and information on transit and paratransit issues.