A mobile data terminal (MDT) or mobile digital computer (MDC) is a computerized device used in public transit vehicles and other industries to communicate with a central dispatch office. They are also used to display mapping and information relevant to the tasks and actions performed by the vehicle such as passenger location, ambulatory status & safety information in conjunction with transportation software.
Mobile data terminals feature a screen on which to view information and an onscreen keyboard or keypad for entering information. MDTs may be simple display and keypad units, intended to be connected to a separate black-box or AVL (see below) computer. While MDTs were originally dumb terminals most have been replaced with fully functional PC hardware, known as MDCs (Mobile Digital Computers). While the MDC term is more correct, MDT is still widely used. Other common terms include MVC (Motor Vehicle Computer) and names of manufacturers such as Mentor.
In the earlier days of computer-aided dispatching (CAD), many MDT's were custom devices costing in excess of $3,000, used with specialized point to point radios. While applications like taxi and package delivery often still use custom designed terminals, transportation providers now have the ability to switch to ruggedized laptops costing less than $300, utilizing the Internet or private IP networks connected to and over it.
The large, Android-powered touch-screen MDT mounts quickly and securely via a RAM mount. There's no complex wiring to install, so transfers between vehicles are easy.
Thanks to intelligent engineering and development, the MDT now enables software to make your organization's services more valuable to the communities it serves. By automating as many processes as possible, the tablet allows your employees to provide safer, more reliable services for the client.
Real Time data communications
Real-time traffic updates tied to the scheduling algorithm (Ecolane specific)
Customizable dispatch times to the MDT increase productivity on your system
Optimized schedules and increased productivity
Vehicle location in real time
Driver behavior tracking, including driver speeds
Fast and efficient dispatching
Real-time manifest updates
Increased safety and customer service
Drivers gain the advantage of an automatically updated, detailed manifest, while dispatchers monitor driver and vehicle activity in real-time. Audible notifications and color-coding emphasize changes to keep drivers aware of updates. Dispatchers can send messages instantly to all drivers or specify one or more recipients. Drivers can use the quick and easy virtual keyboard to send preset ("canned") messages to save time or custom messages back to the dispatchers.
The agency may now equip the tablet with software developed with driver and passenger safety as the highest priority. After all, what's more important to your organization's success than its safety record? The tablet MDT system can incorporate Automatic Vehicle Location and GPS technology to help dispatchers track drivers' movements and speeds. Turn-by-turn voice directions and automatic screen locking aids safe driving habits when vehicles are in motion.
Don't settle for less than your clients deserve. Download our MDT product brochure below and contact Ecolane for a demonstration on our state-of-the-art Mobile Data Terminal and software solution today.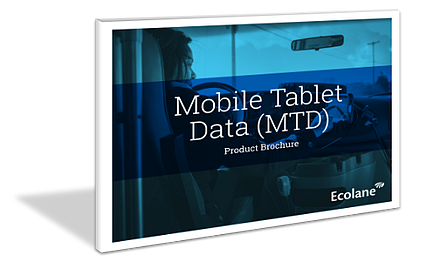 About the Author: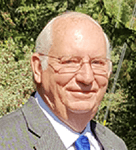 Rex is a 30+ year veteran of information technology in passenger transportation, and has experience working for public agencies, private operators and software developers. His astute approach to technology deployment focuses on both the end user and the passenger. His breadth of experience spans nearly every area of information technology, fixed route, paratransit and shuttle services, including server maintenance, network administration, vendor relations, On-Board technology, system integration, radio/phone, GPS/AVL management, video systems, support, safety, and more. He is a former member of the International Rodeo Committee for the American Public Transit Association where he served as the technical liaison and development advisor. This familiarity with transit data management offers a unique perspective to transportation, and makes Rex a superior candidate to lead the Ecolane Sales team.

About the Author
Rex Clark
Read Rex's blog articles for perspective, opinion and information on transit and paratransit issues.