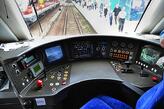 As demands for public transportation increase in cities across the nation, dispatchers and drivers need more efficient ways to communicate. Schedule and dispatch issues can cause delays, increase fuel expenses and add to idle time costing valuable time and resources. Customers' scheduling and routing needs must be met and theny need to include some level of on-demand services while concurrently, transit agencies have to watch the bottom line.
How can the right Transit Software can create a more sustainable transit agency by increasing efficiency?
Routes and Schedules
The ability to facilitate routes and scheduling that service communities to maximum benefit is one key to a sustainable transit agency. Traditionally, routes and schedules have been rigid, whether they were efficient or not. Modern transit software provides real time information that can instantly optimize current schedules and routes to accommodate customer demand. This is an enormously efficient way to keep drivers moving, thus increasing productivity, and perhaps more importantly, keeping customers happy.
Put the customer first
Customer satisfaction is the key to any successful service, and public transit is all about customer service. Public transportation has to be flexible in order to serve the shifting demands of a busy city at any given point in time. Rush hour traffic, events in the area, road construction all have an effect on the needs of residents. When customers perceive the transit agency as providing a reliable and efficient system they are more likely to use the services. Transit software makes it possible for agencies to implement changes quickly so they can efficiently meet the immediate demands.
Better driving habits
Better tracking of drivers' habits can lead to reduced labor and fuel costs and helps eliminate idle time. Assuring that drivers are driving at the proper speeds means the fuel costs will be managed accordingly. Speeding and unsafe driving practices raise fuel costs and put lives in danger. Transit software that uses GPS to track the movement, speed and location of a vehicle allows dispatchers to observe drivers and assure safe driving techniques are followed. When a driver gets lost or makes a wrong turn, it costs money and time and it could be dangerous. GPS can be used to guide drivers to their destination in the shortest manner, saving fuel and labor costs.
World class transit software
With the help of transit software, organizations have the ability to plan ahead, and anticipate the needs of passengers in the coming hours, days, months and years. By integrating a flexible and robust scheduling system based on real-time needs, transit agencies can collect data and forecast future needs. The end result is a customer-centric transit system that practically reads the minds of passengers.
In order for a transit agency to be sustainable, it must be able to adapt to the changing needs of the community and streamline operations with transportation softwares, paratransit softwares and transportation scheduling software. It must also continue to serve customers and provide safe, reliable transportation no matter the demand. Transportation management software with route scheduling software capabilities help to assure that every step of the transit process runs smoothly and efficiently.