Why it is imperative for transit providers to have software built for the web and hosted on a web platform
The impact of Covid-19 forced the world to challenge traditional interactions with people. New catch phrases emerged like "the new norm" and "social distancing" that captured the change felt across the world's industries. The Transportation Industry felt the change more acutely than some industries as the ridership declined at a quick rate and transportation providers looked for viable solutions to provide access to basic functions. Now as the second wave of Covid-19 makes its way across the world, it is imperative now more than ever than transit systems use software that allow them to schedule and dispatch remotely and securely through web access.
This article discusses an interview about virtual site implementation of software or "Go Lives" colloquially, held by Ecolane's Senior Vice President, Ryan Larsen, Vice President of Professional Services, Jason Ellis, Director of Training, Matt Taylor and Director of Marketing & Public Relations, Kelly Coughlin-Tran. To watch the full interview, please click here.
Unfortunately, during Covid-19 our agency partners could not wait until the pandemic lifted to switch from their legacy software to Ecolane. Our Professional Services Department gladly accepted the challenge and modified our approach, so they were able to completely move to Ecolane's software solutions. The excerpts below are from interview with Ecolane Staff and interviews with the first Ecolane Customer completely remotely.
Prior to virtual implementations of our software, dedicated trainers would travel throughout the country and become acquainted with transit staff and long hours. Typically, Ecolane's training team arrives on site, as early as 2 am, at the agency where a five to 14-day process occurs of setting up the agency's routing schedules. The trainers are there to help the agency get through it and ensure the schedules and data are accurate. The "GO LIVE" day is the first day a client goes from using paper manifests or other transportation software to using Ecolane software.
"We all have transportation backgrounds and we know the impact our software can have on agencies," said Taylor.
Once travel lockdowns were in place, the only way to continue with implementations was to perform them remotely. What was at first deemed as difficult, has now become a new and effective way of doing business. Ecolane's training team joins a zoom call meeting and leaves it open for the entire duration the agency is open for business. All of their employees have the ability to join that channel as well to ask any questions and receive clarification.
"Overall, we've had tremendous success with retention and empowerment," said Ellis.
In fact, "this remote distancing, what we've seen is a lot of agencies have taken ownership of their own," continued Ellis. With 17 remote GO LIVE's complete from West Virginia to California, this will be the new way of doing business.
The very first agency to GO LIVE virtually was Rural Economic Assistance League (REAL) located in Alice, Texas. Martin Ornelas, Director at REAL, Inc. was at first concerned the agency would not make their GO LIVE date.
"Everyone was working remotely, so Ecolane adjusted by performing its first ever online virtual training. Although virtual training, in my view, will never replace the human factor, Ecolane did a good job and passing on the how-to knowledge our drivers and staff needed to be successful," said Ornelas.
With advanced reporting functionality and an increase in trips and rides per hour to 1.40, it is safe to say Ecolane's scheduling software improved operations.
"I would like to say that we are really impressed by Ecolane's commitment and leadership. They moved mountains to accommodate our deadline and they acknowledged that we were seeking a partnership for the long-haul. We had an 18-year relationship with our previous provider, and we look forward to an even longer relationship with Ecolane," said Ornelas.
Not only have virtual trainings been beneficial for the agencies, it's also been beneficial to Ecolane trainers who are able to be home for dinner, rather than packing up for two to three weeks on the road. In addition, Taylor says being able to jump on and assist every GO LIVE is something he would not have been able to do, had they occurred on site.
"Building that muscle memory, when you use Ecolane you work on where you need to go to perform a function, we've had such great success with these remote GO LIVE's, we expect them to continue in the future," says Taylor.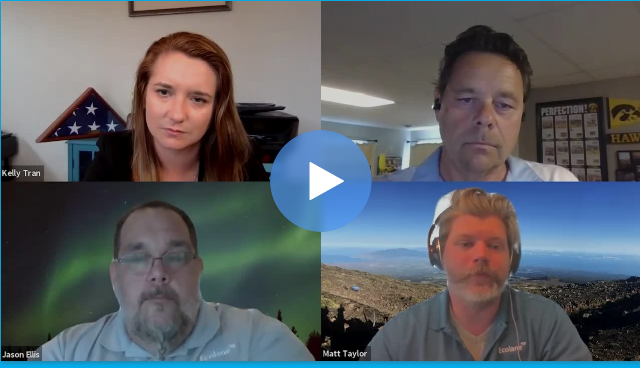 If you would like to see the full video interview, please click the link here.
About the Author

Ecolane
Read Ecolane's blog articles for perspective, opinion and information on transit and paratransit issues.