Many agencies have already reaped the benefits by utilizing Ecolane University's learning management system (LMS). The LMS systematically introduces Ecolane DRT to drivers, schedulers and dispatchers in an effort to train them on common tasks they will use in their daily work.
Why is it successful?
Ecolane University enables users to grow in their knowledge and skills beyond the initial on-site training (referred to as a "Go-Live"). Furthermore, they are able to do so at their own pace. In this way, they can refresh current knowledge or learn something new without feeling rushed and without it interfering with their work responsibilities. When everyone is learning and growing, this makes the agency as a whole stronger and more equipped to handle the daily situations that arise.
"We are committed to providing solutions for mobility needs. Ecolane's fully automatic schedule optimization component of the software already combats driver shortages by filling the voids in the schedule and the LMS ensures driver retention with continuous training," said Steve Ross, CEO.
Ecolane also highly recommends exposing agency staffers to the LMS prior to the arrival of on-site technical trainers as a means to get the most out of their formal training. The in-person training can then focus on how to use the system to the maximum potential rather than spending too much time introducing the system. This will help jumpstart the success on the day of Go Live and make the transition from training to live use more seamless.
Continuous education that saves time and money
Driver turnover increasing over the years has been an issue for most transportation agencies. Moving away from a legacy system can leave drivers feeling unconfident using the new tools. Ecolane University's LMS training helps mitigate this by teaching the functions and usage of the mobile data terminals (MDTs) and driver safety training because when drivers are knowledgeable, they feel more comfortable and therefore, they are less likely to leave the agency. In fact, Ecolane University has a course geared towards drivers which gives them an opportunity to become certified. Once certified, the driver will receive a certificate of achievement—validating the accomplishment of passing the course. With online training and testing, agencies can better measure retention and effectiveness because it's quantifiable.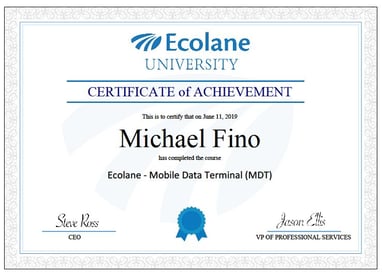 "Ecolane understands that one of the struggles in transit is turnover, which is why we created Ecolane University and built out our LMS training," said Ecolane Vice President of Professional Services Jason Ellis. "Having a software provider, like Ecolane, that offers the ability to bring new employees up to speed on the basics in a self-paced consistent training which allows key staff to focus on the transfer of institutional knowledge has a real positive effect on bottom line."
In terms of a financial benefit, studies have indicated that over the years, organizations save between 25 - 60 percent per driver students (in the case of transit agencies) as opposed to face-to-face training on the same subject.
"Ecolane University is free of charge to all partners with current maintenance. In doing so, it helps combat staffers, including drivers, from training mistakes due to obsolescence in the training format, time constraints of the staffers and drivers, or new employee understandings," said Ellis. "Another great benefit is that training is always available, so people can take or retake modules at their convenience," he added.
Which agencies can benefit most from Ecolane University's LMS?
Agencies of all sizes – small to enterprise level – can use and benefit from LMS. There is no limitation on how many users can register to use it. Currently, Ecolane has more than 3,000 users enrolled across 80 agencies and more than 1,000 students have earned certificates of completion upon passing the knowledge-based tests. Both the number of agencies using LMS and the number of students enrolled is growing daily.
Whether an agency is operating demand-response, on-demand, NEMT, or any combination of transportation services, it can benefit by providing the courses to its staff members and drivers. There are courses for new schedulers, dispatchers and drivers alike in addition to refresher courses and advanced courses for agency veterans.
Ecolane University's LMS is free of charge, so it is a cost effective, flexible method of delivering training that is interactive, practical and relevant. We are continually growing our LMS module library, so students have opportunities to get certified in many different areas.
--
If you would like access to the Ecolane Learning Management System or learn more about this benefit to Ecolane customers, please email learning@ecolane.com.
Interested in learning more about Ecolane DRT?
About the Author:

Charles is a technical trainer with more than 20 years of experience in training professionals, eight of which have been at Ecolane. He is responsible for educating new clients on Ecolane software through in-person and on-site support. Charles is also responsible for conducting follow-up training and consulting to identify and reinforce best practices.
Charles is a systems and e-learning development expert, having worked as a regional training coordinator, corporate training instructor, and senior e-learning training & development manager prior to joining Ecolane.