Arlington Handitran rider, Olivia, explained to us how using the Ecolane mobile app has given her a new sense of personal mobility. She can now book trips for herself fast and efficiently. Whether she books a same-day trip or a few days in advance, it works reliably and the vehicle arrives on time.
But how? The Ecolane DRT system automatically ensures that happens. Let's take a look at each of the stages from booking the trip to pick-up.
Initial Optimization
Olivia books her trips using the Ecolane mobile app. She doesn't need to call in or spend time waiting on the phone for a reservationist to answer. With a few simple taps on her mobile phone the trip is booked, it automatically schedules into Arlington Handitran's central Ecolane DRT system without the need of human intervention. The software then works to get the trip scheduled.
Batch Optimization
As Olivia's day of travel gets closer, the Ecolane DRT system continuously optimizes Olivia's trip as well as the other trips for the same day to ensure that Handitran is able to provide a cost effect and high quality transportation service. This is all done automatically behind the scenes. The Ecolane route scheduling software goes through countless, continuous calculations and permutations within its algorithm to adjust for the changing conditions in between the time of initial trip booking and the moment of pick-up. No intervention from Olivia or the operations staff at Arlington Handitran is necessary.
Real-time Optimization
When the trip is ready to be dispatched to a vehicle on the day of service, the trip status will change from "open" to "allocated." At this point, the trip is assigned to a specific, final vehicle and is ready to make the run.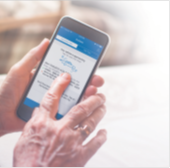 Olivia will get a push notification minutes before the pick-up window, and by clicking the notification, it will bring up the map along with an estimated time of arrival (ETA) to her destination. From there, she can click on that ETA and it will open her text messaging, enabling her to share it with someone meeting her at the destination.
Once the vehicle picks up Olivia, the system moves her ride to "active" status while she is in transport right up to the moment of drop-off.
The power of automatic scheduling gives Olivia and other riders their mobility and independence. Because it continuously re-optimizes, it can fill the voids of no-shows and cancellations and it can accommodate same-day trips, ensuring you are maximizing your rides per hour every day, thus improving operations and customer experience.
-----
Find out more about how you can increase your revenue by giving your riders the power to book trips with the mobile app. Watch the informational video to learn more.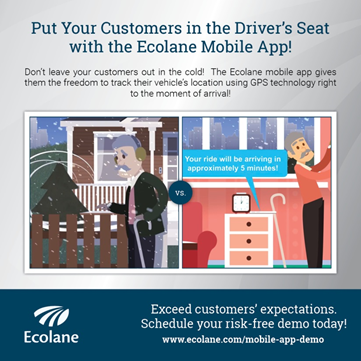 About the Author: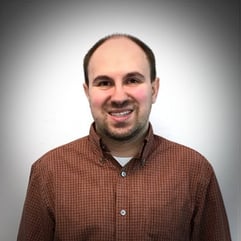 Michael Fino is Ecolane's marketing analyst. He is a creative communications expert, responsible for writing, producing, and managing a variety of marketing, educational and PR content in addition to supporting business development through inbound marketing and lead generation efforts. He came to Ecolane with more than nine years of experience in the marketing and communications field. Michael graduated from King's College in Wilkes-Barre, Pa and later went on to earn his Master's in Strategic Communications with a focus in PR and Journalism from Villanova University. His weekends are often spent at fairs and festivals, going to art and history museums, or kayaking with friends.