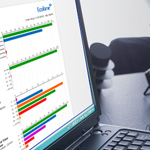 Technology is changing constantly and is in a constant state of flux. There is no industry now that has not been touched by these changes, and that includes the transportation and transit industry. Remember the days that you had to schedule your trips by hand? Those days are gone. You no longer have to worry about manually scheduling trips which used to take hours of time. Now there are a variety of tools to do this for you as we enter the age of automation.
In addition, there are many helpful tools available today such as Demand Response Management System which were not available before which are more cost-efficient and will cut your time you have to schedule down immensely.
This is a big advantage for transit businesses, but only if they know what to choose when it comes to software. With a little forethought on what you need your software to do, you can help your transit business immensely by turning some of the time-consuming jobs over to the software.
Five Clear Advantages of Using Software In Your Transit Business
1. Schedule trips automatically using a web browser, allowing customers to book trips by themselves easily, even via their mobile phones.

2. Create more revenue by allowing your sign-up processes to be automated.

3. For some agencies, embracing customer self-service, reducing the reliance on dispatchers can translate to better service and more cost-effective operations.

4. Keep communication lines open 24/7 and increase your credibility

5. Spend less time with scheduling jobs and more time working on the other aspects of your transit business.
As you can see, using online automated software is a great solution for your transit business to schedule and dispatch transportation jobs automatically. It simplifies the transit process and lets you focus on more important things in your business.
Technology is here to stay and your transit business can definitely benefit from the use of high-quality dispatch and scheduling software. Which type of solution is going to be the best one for you? Contact Ecolane and tell us about your agency's pain points.