Healthcare services are essential to every segment of the population. But some of our more fragile populations face transportation challenges to get to their essential medical appointments. Some must rely on family and friends or local community organizations to transport them. If these options become limited, Non-Emergency Medical Transportation (NEMT) can fill in the gap.
It's not only the vulnerable portion of our populations that can be affected. We could also be talking about someone who's normally healthy enough to get around but may be temporarily waylaid by an acute injury or surgery. Post-surgical patients aren't allowed to drive until cleared by their healthcare provider, even if the surgery didn't involve limbs or hands. Since surgery weakens muscles needed for driving a vehicle, and post-procedure pain medication may make driving illegal and unsafe, alternative arrangements need to be made. After all, getting to follow-up appointments is often crucial to recovery. If you can imagine trying to board a public bus with a cast on your leg and arm, you probably see the types of challenges some riders might face. For many, driving their own car is out of the question. For these and many other challenges, NEMT is the answer.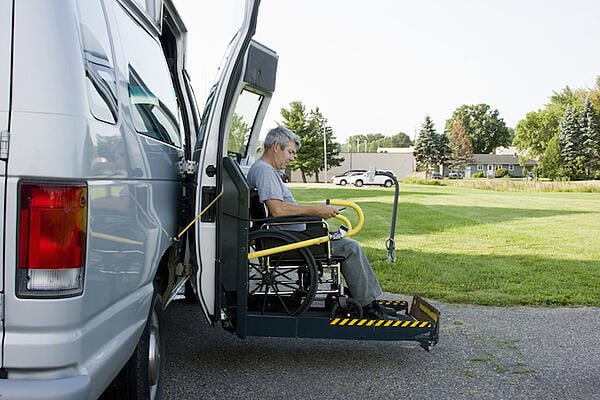 How do we define Non-Emergency Medical Transportation (NEMT)?
NEMT can be defined as a transportation service provided to individuals who are not in an emergency situation but need more assistance than a taxi service is able to provide. Service providers will be specially equipped to transport riders in wheelchairs, stretchers or with other special needs.
Non-emergency medical transportation (NEMT) services are most often provided by booking travel through transportation brokers via specialized software which locates available transport providers and schedules the appropriate trip after the brokerage has verified eligibility for them to ride based on funding rules. Medicaid will sometimes pay for this type of service but not everyone has Medicaid coverage. In other cases, state and local programs, departments of aging, and hospital systems will fund NEMT transportation. With many demands on the public purse, these funders understand that it's less expensive to provide the necessary transport to keep a person healthy than to treat them later once their medical issues have worsened.
What are NEMT brokers?
NEMT brokers use specialized software to find the right transport services, including providers with both standard vehicles as well as specialized vehicles in order to cover every range of non-emergency need. Wheelchairs, mobility scooters, walkers, gurneys and the entire realm of non-emergency medical equipment that a person may have should be manageable with these modern systems. The software will also take into account the transportation costs that the provider will charge to the brokerage for that specific trip, the area of coverage that the provider works in, and the availability of drivers and vehicles at the time of the requested trip. Good scheduling systems will also have a built-in way to automatically shop those trips to providers to allow them the final choice to accept trips or send them to another provider, based on the brokerage rules.
All of this is transparent to the person needing to obtain transport to a doctor or hospital appointment. All they have to do is simply contacts the transportation broker who collects will collect information on any special needs, book the trip at the time requested, and let the system do the rest.
How does NEMT brokers' software benefit riders?
NEMT and the specialized software that helps manage it allows people with special transport needs to maintain their independence and avoid feeling like a burden on family or friends. This feeling of independence can provide a much greater sense of well-being, helping recovery and/or management of a chronic disorder.
On the brokerage side, good software helps coordinate provider availability, gives visibility into where drivers are at any time, keeps brokerage costs under control, and provides many other flexible tools to provide the best possible service to those who need it most. Over the long term, the right software is an affordable and effective solution to building out and supporting an NEMT brokerage.
Non-Emergency Medical Transportation (NEMT) is becoming more and more of an essential service in the healthcare arena. Hundreds of thousands of people schedule NEMT travel to and from medical services each week. Without NEMT, many of these people would be unable to obtain the medical services critical to their health.
Are you looking for a distributed service or brokerage software solution for your transportation agency? Contact Ecolane today to discuss your challenges and arrange for a demonstration of options we can offer to help.
About the Author:

Kevin Dow is our Project Support Office Administrator. He has a proven record of project management in the public transportation industry and was recruited in 2013 by Ecolane to extend the level of services provided to the company's client base. His background in education, non-profit agencies, technology procurement, standards, and policies make Kevin a valuable resource to further the objectives of the organization. His responsibilities focus on the evaluation and management of the implementation process for Ecolane, regional and local staff training, identifying added value initiatives, and increasing Ecolane's commitment to providing leading, industry client satisfaction.
About the Author
Kevin Dow
Read Kevin's blog articles for perspective, opinion and information on transit and paratransit issues.