We decided to limit our list to those transit service providers our own business is geared towards that audience. In order for the industry to evolve, we should be clear about the issues hindering its progress and creating these headaches. So without further ado, here are the transportation issues in America, along with their solutions. We've saved the best for last.
6. Poorly informed transit users
Educating the public about available transportation solutions is necessary in order to promote ridership and build relationships between users and transit agencies. Details about routes, areas covered, and the associated costs represent the minimum amount of information the public should be provided. Instructions on how to access, schedule and use the available services end up being crucial to the industry and a huge benefit to the public. Nowadays, utilizing social media, press coverage, direct mailing, billboards and brochures represent just a few of the communication channels available. But some of these will test already-tight budgets. Additionally, developing effective communication plans across multiple media outlets require specialized skills not typically available within more-traditional agency environments.
5. Funding constraints
Many transit providers that were reimbursed in the past by Medicare are now facing the need to seek funding from other sources including grants, government subsidies and foundations. Without accurate data to analyze funding needs and present to potential fund providers, gaining the funding required to meet future needs is difficult. Quality transit software allows for this kind of data collection, analysis and presentation making the grant application process significantly easier.
While some sources of funding may have dried up or changed, there are still ways to find additional monies to grow the business. Talking with governing bodies, other agencies like yours, searching the web and tapping into resources that can research grants are great ways to get additional funding. Quality transit software companies may also have resources and/or insights to point your agency in the right direction. Having good data in your system and reports ready to go will have you ready to justify asking for the proper funding that fits your agency.
4. Increases in demand
Knowing the demographic landscape you serve or want to serve is vital to providing proper service hours, drivers and vehicles. The Silver Tsunami, another name for the rapidly-aging population that includes baby boomers and pre-baby boomers, are requiring the services of transit providers and placing a huge demand on the industry. Listen to your riders, be active in the community, and work with local officials to help manage realistic expectations for projected growth. Be creative with what services you provide. Maybe it's shopping midday when your services are in lower demand. Or could it be only going to certain areas on certain days, times or trip purposes. There are ways to grow the business with out necessarily incurring additional costs.
How and where to provide additional transit routes, and analysis of additional vehicle and driver needs and other information needed to allow transit providers to grow in the smartest, most cost-effective way possible can only be provided in a manpower-efficient manner by using good transit software.
3. Cumbersome reporting
Few businesses are able to operate without a solid reporting system to analyze costs and profits, identify areas for improvement and/or explore billing issues. In some cases, reporting is mandatory in order to respond to government requirements. Many organizations build reports manually with a variety of non-compliant or difficult-to-use software packages that take up time and often provide inaccurate or inconsistent results. Automating transit reporting to allow providers fast, accurate information and billing data for analysis is an integral requirement for this industry. While Ecolane's reporting feature set isn't the only solution available on the market, it is one of the most powerful, industry-leading features of our platform. Reporting also represents one of Ecolane's core beliefs: that our customers should have fast, reliable and consistent reporting, in real time, so they understand how their system is being used and can respond to quickly to changing information demands.
2. Lost Drivers
Transit vehicle drivers who do not know where they are going for either passenger pick-up or destination is an issue which has plagued every agency at one time or another. Whether the driver is unfamiliar with a particular area or traffic or whether detours force drivers off a scheduled route, the lack of route and area knowledge can create real headaches. Any decent transit software should provide drivers with exact routing information to ensure their time, fuel and vehicles are being used most efficiently and to guaranteed that their passengers will get the service they need at the most affordable cost.
...and the number one transit industry headache is...
1. Manual scheduling
The human brain can only do so much when it comes to putting efficient transit schedules together. Manually creating and assigning just a handful of routes can become complicated and inefficient very quickly. Adapting to new riders and changing schedules may seem near impossible. As an agency grows, the need will arise to have a tool that can assist in providing a better way to build the schedule, and that can adapt in real time to the changing landscape of day-of service.
With dedicated software applications focused on the specific needs of transit scheduling, routes can be effectively planned, wasted miles reduced and transit customers will be assured their transportation will reliably be available on time to get them to their destinations.
--
Like any industry, transit faces a number of challenges that can hinder it from providing quality service on a consistent basis. The goal for those providing these services is to implement solutions which are easy-to-use, powerful, and flexible enough to mitigate the daily headaches out there. Good paratransit software can be the painkiller to those headaches.
About the Author: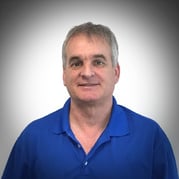 James Stec is Ecolane's Director of Strategic Accounts and he was brought onto our Professional Services team because of his extensive experience in telecommunications, IT and senior project management, specifically in wireless carrier operations, call center operations, new product development and launch, strategic planning, network design, billing, and operations cost reduction.
About the Author
Jim Stec
Read Jim's blog articles for perspective, opinion and information on transit and paratransit issues.