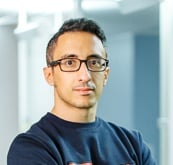 Ecolane's transit solution has been designed for people, by people. Behind a seemingly simple task of getting a person from point A to point B there is a complex software solution created by a team of highly skilled professionals. What keeps them motivated? We asked Kari and Andrea.
Kari Ikonen has been working in software development at Ecolane Finland for three years, and he's responsible for the user interface of Ecolane's solution. Andrea Rametta, originally from Italy, joined the team in December 2017. He focuses mostly on reporting and front-end development.
When employees at Ecolane Finland talk about their motivation, one word keeps coming up: purpose. "The first impression about paratransit may be that it's not the most attractive field of work, but this is not true. There's so much interesting background to this product," Kari states. "It's definitely not the same to work for a big company making big profits or to help an 80-year-old lady to get where she needs to go."
Andrea agrees. "I used to work with a more general product in ERP software development. Ecolane's product has a meaning and a clear focus. At the same time, the product itself is not simple at all, quite the contrary. In half a year, I have just scraped the surface. The variety of my tasks makes my work challenging and allows me to continuously improve my skills," says Andrea.
Evolution keeps up interest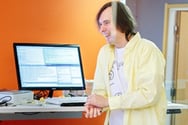 Ecolane's highly complex solution motivates its developers. "It's a bit of a technical jungle as the product contains a wide range of technologies and information systems, including systems based on geolocation," says Kari. "The architecture has been built over a long period of time, and we keep developing the system iteratively. The entire system is very interesting, and it keeps evolving."
Kari has a long experience in the field and a genuine interest in user interface development. "At Ecolane, I have a lot of freedom to make decisions in this area," Kari says. "Sometimes I miss having someone to discuss ideas with, but luckily, I have some colleagues who have insight and interest in this area. It would also be great to visit end users and see how they actually use the interface. Anyway, nowadays we get more feedback from users than we used to. And when we don't, I just use my 20 years of experience and my intuition."
Trust, freedom, and a positive spirit
According to common stereotypes, working in software development usually means long days, extra hours, and tight schedules. At Ecolane Finland it doesn't. "Management plans the work very well," says Andrea.
"There's not too much rush or pressure, and the working hours are flexible. This helps a lot with combining work with personal life. The atmosphere is relaxed and very trusting: as long as you do your work well, you have the freedom to plan and organize your daily routines."
"The flexibility at our office is real, not just appearance," Kari points out. "I can say that Ecolane is the best place where I have worked. The spirit among colleagues is very positive. You can see it every day when we all leave together for lunch. This is also a multicultural workplace. English is our official language, and everyone speaks it. This makes it easier for anyone new to step in."
"The good spirit at Ecolane Finland is also supported by occasional free-time activities, such as gym lessons, a company Christmas party and summer day, and a visit to an escape room. Everyone is welcome but not required to participate. "All in all, the difference between Ecolane and other organizations is that people have more freedom. My long-term plan is to work here, get to know the product, and grow both professionally and personally," says Andrea.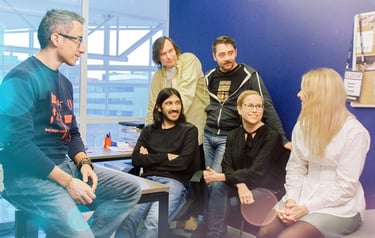 About the Author: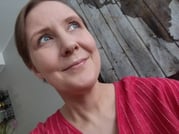 Silja Eskola is a communications and marketing professional with nearly 20 years of experience in the field. She has a great ability to understand different business models and to support them with effective communications. Silja is also a versatile writer, and she creates clear and concise texts about complicated matters.
About the Software Developers:

Andrea Rametta is a software developer with 7 years of experience. Computer science has always had a part in his life, and he's fascinated by the challenges provided by this type of a job. Andrea is a tech fan, and in his spare time he likes to read, ride a mountain bike, and shoot with analog and digital cameras.

Kari Ikonen is a software engineer with 20 years of experience. His main areas of interest are user interfaces, human-computer interaction & al.
About the Author
Silja Eskola
Read Silja's blog articles for perspective, opinion and information on transit and paratransit issues.