People thought I was crazy when I told them it was possible to cross America using only local and regional transit. (They also thought I was crazy when I told them I'm looking forward to Vince Vaughn's next movie but set that aside.)
"It's easy enough getting from New York to Philly," was the consensus. "But what are you going to do when you run out of big cities? You'll never make it to the other end of Pennsylvania!"
Then I made it all the way to the Pacific Ocean. Sure, there are holes in the map and I took a couple mulligans along the way, but it was easy to get a lift on public conveyances in some of the most unlikely places, including:
Cambridge to Reynoldsburg in Ohio;

from Indiana all across central Illinois and into Missouri;

from Lawrence, Kansas, to Oklahoma City;

and (perhaps most surprisingly) from Fort Worth clear through west Texas to El Paso.
These account for stretches of 70, 170, 210 and 600 miles. Another way of looking at it: You can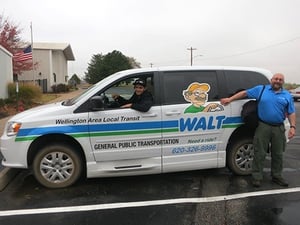 follow my itinerary and travel at least a thousand miles on vehicles owned by and available to the general public and yet don't run fixed routes. I'm not even counting the van pools, private intercity lines and ride shares that filled in some gaps. This is true, demand-response rural transit. (Full disclosure: Although I documented the capability of using a combination of dial-a-ride services to get from Fort Worth to El Paso, bad timing over Thanksgiving weekend prevented me from personally traversing the last 260 miles. I had to cross the river and close the distance via Mexico, but that's another story.)
But how long have these options been in place? How did they get started? Who's paying for this convenience? And why are there still dead spots?
Rural transit's ascent
The first thing we need to understand is that rural transit isn't driven by market forces. It's not a money maker. It's about enabling the elderly, disabled and indigent the dignity to travel. It does have the multiplier effect of helping money flow to doctors' offices, dialysis clinics and grocery stores. But even so, so much of what's spent comes from Medicare, Medicaid and SNAP.
This isn't meant to be political. The point is, the money comes from government. That's a fact.
It started with the Federal-Aid Highway Act of 1973, when the subject of funding rural transit came up as an adjunct to improving rural roads. So there was a little spurt of activity through the end of the decade, but it fizzled. The deregulatory temperament of the time decoupled freight from passenger service. That was good for FedEx and UPS, but bad for Greyhound, which began curtailing service on routes where it was no longer making money on freight.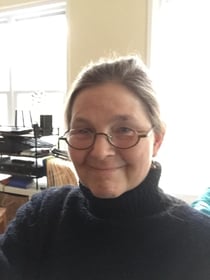 "From 1984 on, you had a decline in intercity access," said Robin Phillips, executive director of the National Rural Transit Assistance Program, a service of the U.S. Department of Transportation.
Not until the Intermodal Surface Transportation Efficiency Act of 1991 was the issue revisited, and an emphasis placed on linking investment with system planning.
The effect was to take the decision of what vehicles go where out of the hands of local boosters and into decision makers at the state level.
"The thinking [at the local level] was, 'We don't want to put people on a bus to go shopping out of town,'" according to Phillips.
Simultaneously with ISTEA (pronounced "ice tea"), came the Americans with Disabilities Act, which emphasizes access and accommodation for disabled people, and that carried over into public transit.
Even so, much of the mandate went unfunded, and it wasn't until 2005 that Congress passed arguably the most awkwardly named piece of legislation in U.S. history, the Safe, Accountable, Flexible, Efficient Transportation Equity Act: A Legacy for Users – more commonly known by the just plain silly moniker of SAFETEA-LU. Fortunately, it was replaced in 2012 by the Moving Ahead for Progress in the 21st Century Act, or MAP-21.
In any event, SAFTEA-LU had the effect of doubling the money available to rural transit. Phillips said that SAFTEA-LU was the "watershed" that made being the Cross-Country Local possible.
Who's paying the fare?
Washington, though, pays only so much of the cost of a ride.
"If you have a well run system, federal money is one-fifth of it and the rest comes from state and local sources," Phillips said, noting that the fare box accounts for anywhere from eight to twenty percent. "We think of it as a co-pay."
Leaving money on the counter
Even so, there are bald spots on the route. Cherokee Strip Transit charged me a dollar a mile to Oklahoma from the Kansas state line – that's $110 for 110 miles. Hardly a co-pay.
And there was no public transit to be had for any amount of money through the western two-thirds of Belmont County, Ohio. The Wheeling, W.Va., transit system got me as far as St. Clairsville, the Belmont County seat, but there was nothing heading west from there to the Guernsey County border.
From there, each county took me line-to-line down Interstate 70, so the obvious question is: Did Guernsey, Muskingum and Licking counties all take federal money that Belmont was entitled to but declined to pick up?
Maybe, but what's more likely is that Belmont just passed it through differently.
According to Phillips, it's entirely possible that agencies dealing with the elderly and disabled were given their due funding but, as independent non-profits, they were able to use that funding to satisfy their own brief and go no further. There being no actual transit agency in Belmont County, there was no public transport institution to receive those funds, and thus somebody who is neither old nor infirm is in for a 20-mile hike down the National Road.
The Cross-Country Local was sometimes a stress test for rural transit systems, but Phillips sounded displeased that grants are available to provide public accommodation, but there are still gaps.
The use case, she said, is still reasonable and coordination with neighboring transit regions can be as simple as opening a chat window or picking up a phone. Or, as she told me, "You're not the only person to go from Wheeling to Columbus."