Take a hard look at your current technology. As a transit manager, if you aren't thinking about the future and aligning operational goals with mobility trends, you will simply be left behind. One key focus of operational decisions has to be placed on leveraging the right software that enables services that riders have come to expect. Accommodating the growing population of riders who require on-demand mobility is a must. Add to that the growing local, state, and federal requirements around funding. Agencies need to be creative in the types of services they offer (paratransit, on-demand, microtransit, NEMT, etc.), so they require and should expect scheduling and dispatching software with the same functionality, flexibility, and versatility that allows services similar to that offered by Uber, Lyft and other on-demand transit services.
Eliminate the manual process
As the need for on-demand transportation continues to rise, it's obvious that tedious, time-consuming methods of trip booking, scheduling, dispatching, and reporting are no longer viable. Automating the process from beginning to end is a big leap towards becoming more efficient for riders and it empowers staff to give undivided attention to customer service. Doing more with what is available instead of spending more on labor costs becomes a requirement for sustainability and it increases the value of the business.

Continuous real-time optimization makes filling gaps possible
Too often riders cancel, reschedule, or just fail to show up. For a business model dependent on efficiency and headcount, it is imperative to minimize trip loss. Ecolane software accommodates same-day trip bookings and seamlessly updates driver manifests on the day of service. With legacy software, empty seats remain that way because same-day trips are prohibited by antiquated software's limitations.
Our philosophy on automation
When it comes right down to it, Ecolane submits that scheduling software must be automated in order to impact the day of service and respond to live conditions. For us, it isn't a luxury. It's necessary. If a software solution cannot adapt and respond to live conditions on the day of service, then it's not truly automated.
The Ecolane system was designed from conception to work automatically in real time. It wasn't an afterthought, a breakthrough, or an evolution. It was a deliberate decision. Ours is the only software that continuously optimizes schedules from initial optimization (when the rider books a trip) through the day of service (when the rider takes the trip). It doesn't stop after the batch optimization process, but rather continues to adjust to the live events of the day near instantaneously and without intervention from agency staffers.
Since staffers are not reacting to the day's events, they have the opportunity to concentrate on broader tasks that serve your customers, adding more value to your business. Ecolane's commitment to help your agency grow supports your commitment to riders. They will always get their rides on time and on their schedules.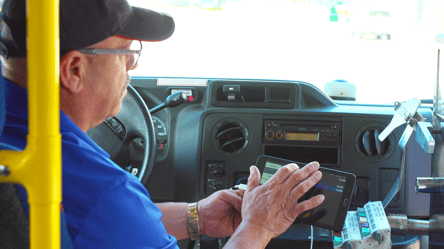 ---
To learn more about the Ecolane system, schedule your comprehensive demo today.
About the Author

Ecolane
Read Ecolane's blog articles for perspective, opinion and information on transit and paratransit issues.