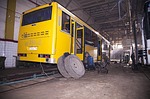 Transportation agencies continually struggle with the fundamental question of how to decrease paratransit service operating costs. This is an important question and a very real concern. Gasoline and the cost of labor fluctuates constantly. Repairing and servicing vehicles are not inexpensive activities either. Raising rates or charging more for ads are a couple of ways to generate extra revenue, but perhaps the most practical solution for paratransit agencies is to implement quality transit software. The right software can help trim the excess fat from operations and, in turn, save a lot of money. Let's explore the benefits the right software can provide for paratransit agencies.
More Efficient Routes
Running the right routes is essential when it comes to cutting costs. With professional transit software, agencies can monitor the routes their vehicles run and determine if there is any excess. Routes can be adjusted based on efficiency of gas usage and the total time spent to complete the route. More efficient consumption of resources is only a part of transit software.
Vehicle Monitoring
Some transit software can monitor the health of the vehicles being used. Auto repairs can be costly, but if they are addressed early enough, those costs can be better managed. Transit software that monitors vehicles and can identify small problems before they become major ones down the road provides obvious benefits.
Monitoring Driver Behavior
Human nature has the potential to be a liability for some industries. Within transit, individual trust and responsibility are paramount and ensuring appropriate driver behavior is essential. With the right transit software, agencies can be assured that their drivers are where they are supposed to be at the correct time. If discrepancies arise, the software allows agencies to analyze the data so that the driver can be properly educated about the correct procedures.
Transit software offers complete optimization of vehicle, routes driven, and gas consumption. These are the leading costs of any paratransit agency, and are among their chief concerns. Contact us for more information regarding transit software.