With an operating area of over 550 square miles, Perry County Transit, located in central Pennsylvania, had more than a handful of challenges delivering efficient paratransit services to their community. Ecolane's statewide transit software rollout in Pennsylvania presented an opportunity to both support Perry County's efforts and move them to a modern platform. Typically, Perry runs around 375/trips per day using 28 vehicles (plus sub-contractors).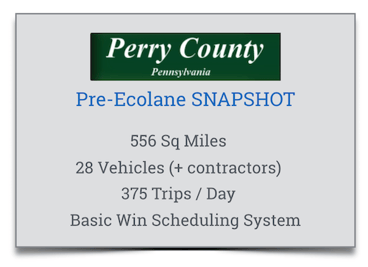 Migrating from a process which neither optimized Perry County's daily schedules nor provided vehicle monitoring revealed a number of issues they were facing. Two-way radios had been their standard but were costly to maintain and unreliable in the rural terrain which made up Perry's operating area. Additionally, the agency's dependence on manual scheduling led to inefficient and often inaccurate data entry. Reports that were run on that inaccurate data added to the headaches. Perhaps one of Perry's largest struggles was the staff's inability to perform compliance checks on their provided services.
Soon after Perry's implementation of Ecolane DRT scheduling and dispatch software, the agency began to see multiple (and remarkable) benefits from their new platform. Ecolane's ease-of-use provided a smooth transition for administrators, drivers and schedulers and the real-time nature of the software allowed for more efficient transit management almost across the board.
"The PCTA is [now] performing a higher number of passenger trips monthly at a lower cost," says Stacey Nybeck, Executive Director at Perry County Transportation. "Our monthly fuel prices have been cut by 40% on average. Additionally, administrative staff are able to utilize their time performing compliance checks and maintaining the daily operations."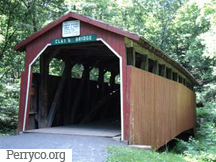 A 40% reduction of fuel costs is a significant savings for any organization and Perry is no exception. Reworking their fare structures also led to more affordable services for their customers and their satisfaction. Perry County Transportation went from an operational deficit to a surplus in less than a year.
"We are reversing negative cash flow trends by using Ecolane software," continued Ms. Nybeck. "We are no longer printing paper manifests for our drivers or having administrative staff manually input data for reporting purposes. We have combined positions and reassigned various job duties. We have saved time by utilizing the tablets to send messages directly to our fleet in real time and to be able to reassign trips to other vehicles in the event that the driver is running behind schedule."
Perry County also enjoys the freedom they get from accessing their Ecolane DRT Transit software from anywhere with an Internet connection. Managers routinely login to Ecolane from outside their offices to check on service performance, run reports and perform any task they're able to do from their desk.
Don't take our word for it, though. Feel free to contact Perry and see how their Ecolane experience is the rule, not the exception, for truly effective transit software.
Perry County Transportation Authority
Stacey Nybeck
Executive Director
snybeck@perryco.org
(717) 567-2490