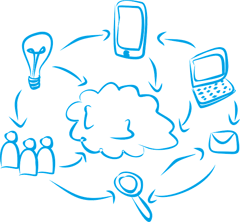 Any transit business, from a small touring minivan to busses providing mass transit for a major metropolitan area, understands that their mission is to move people efficiently and safely. Providing on-time service to specific destinations, either through scheduled pickups through special services or on a regular community pickup route, is the goal. To reach that goal, effective communications between transit organizations and riders, whether through direct contact with help from transit software or through marketing efforts, is crucial and has to take place in order to produce results.
For segments of the population who already rely on community transit services, changes to the system in any way have an impact and transit agencies are the organizations who need to step up and ensure those communications occur.
Communicate with the Public
The general public, who both require and utilize transportation, is what keeps a transit business operating. The public needs to know that transit services exist and for those that already do, they need to be informed about route changes, expansions, fares and scheduling. Riders need to be communicated to through direct mailings, local newspaper advertising, press releases, television advertising, newsletters, social media and via any other channels available. Failure to aggressively provide updates and changes, in particular, have a damning effect on transit agencies and many learn the lesson the hard way. Recouping from mistakes, that could easily have been avoided with the help of good communication, are often more costly and significantly more painful, too.
Communication via Partner Agencies
Partner agencies can also help support rider communication strategies. Consider where transit services are delivered; hospitals, healthcare providers, charity services, large apartment complexes, shopping malls and retail centers. Transit agencies partnering with these locations are often given the opportunity to communicate to the public via brochures, schedule postings and word of mouth at or around those high-trafficked facilities. This is valuable because potential riders may not know what types of transit services are even available to them. Alerting partner organizations when changes to services take place does need to become part of a clearly defined process, though.
Communication with Local Legislators
"THERE'S NO TIME LIKE THE PRESENT. TIMING IS EVERYTHING, AND WITH LEGISLATORS, THE BEST TIME FOR PROMOTING TRANSIT AND ITS MYRIAD OF BENEFITS IS... ALL THE TIME."

-Mass Transit Mag 2/7/11
For transit agencies looking for public support and adoption of services, communications to local legislators can go a long way. For starters, legislators are usually interested in announcing new services to the public since they're exciting topics to talk about and are, at times, benefits that the general public did not know were available to them. If changes to services are in the works, informing legislators of this information alerts them to potential community reaction. No one likes to be blind-sided and when essential services such as transportation is concerned, emotions can run high.
Reinforcing to local legislators how transit services help communities and how those communities are made up of a voting public has its advantages.


As part of their communications arsenal, transit companies should be ready with plans and templates to push out specific messaging at the time it's needed most. Not doing so runs the risk of overwhelming customer support processes and/or introducing a needed service to a transit-hungry demographic.