Improving paratransit service is no easy task. Each action taken to make improvements uncovers more that need to be fixed. However, the pressure to improve the quality and productivity of paratransit service remains constant and will likely only increase as the U.S. demographics shift toward an aging population that is living much longer than before. Maintaining the status quo is simply not in the cards if you are trying to improve service productivity and hold the line on budget expenditures. In order to find a solution, it's important to first know what is hindering success. In this article, we give detailed insight into exactly what those problem areas are as you start the process of finding solutions.
1. Outdated Service Models
Outdated service models have an impact on the success of paratransit. Currently, the most common approach is to take trip requests days in advance and create static manifests that simply deliver to destinations—based only on what the customer has requested. There is no consideration for real-time scheduling that optimizes the schedule without heavy day-of-service dispatch involvement.
2. Lack of Data / Analytics Due to Outdated Technology
Paratransit agencies often lack access to real-time data and analytics. This is largely due to antiquated technology. These technologies have limited capabilities that lack the ability to generate creative solutions to scheduling trips. Additionally, many current software systems are very complex and confusing; leaving most users unable to use them effectively.
3. Consumer Demand Bound by ADA
As a result of the federal mandate referred to as the American with Disability Act (ADA) enacted in 1990, many transit agencies are legally bound to provide direct transport to patrons who, for a multitude of reasons, are unable to access public transit service in their various communities. These services are considered vital or a lifeline necessity for trips to the doctor, dialysis centers, shopping, school, adult daycare facilities, senior nutrition centers, etc.
Due to the ADA, agencies must provide all paratransit or DR trips as requested by its customers (subject to fixed route service locations and hours). These requests can be hard to manage or predict if you don't have a proper system in place. Recent data shows that demand is not declining nor is it holding constant. In fact, according to NTD data, while the number of paratransit trips has increased by a mere 24.7% over the past decade, the cost of providing the service has increased by double — while fare revenue increased by only 50%. Additionally, the FTA has been placing added emphasis on triennial reviews to reduce ride times and improve customer satisfaction.
The likelihood of this trend decreasing is unrealistic. In fact, a study published by American Public Transportation Association (APTA) in 2010 showed that the elderly population will increase by 79% between 2010 and 2030. This will have a direct impact on the demand for paratransit service as will the returning veterans and persons living in isolated rural communities requiring specialized door-to-door service.
4. Budgetary Constraints
All of these aforementioned concerns have an effect on the success of paratransit but constrained budgets seem to be at the top of the list. Considering the continuing increase in demand for paratransit service, transit agencies are finding it more and more difficult to not only meet current demand but future growth projections will require more resources beyond funding capabilities. Many transit systems are already reducing traditional services and deferring much-needed maintenance improvements in an effort to finance the spiraling cost of providing demand responsive service.
5. The Rise of the TNC
Transportation Network Companies such as Uber and Lyft may seem like a great solution but more work and exploration is needed before taking the leap. The most successful transit agencies are looking into relationships that still emphasize customer safety, accessible vehicles, driver background checks (including drug and alcohol screening) and control of passenger travel to prevent abuse of the system such as excessive driver tipping.
If you can identify with these concerns and are looking to change the tune, there are solutions. Thankfully, there are paratransit software products that utilize continuous real-time optimization which integrate with a real-time Automatic Vehicle Location (AVL) system and mapping software. These software systems help store all daily manifests and trips in a secure cloud environment for easy retrieval and data analysis. By collecting this data, there is a wealth of information that can be taken advantage of and used to alleviate capacity issues, improve customer satisfaction, and increase your bottom-line.
Ready to upgrade your transit? See first-hand how you can create a more efficient and effective transit operation with modern scheduling, routing, tracking & reporting from Ecolane.
About the Author: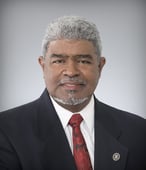 Michael J. Blaylock is an internationally recognized senior executive with over 30 years of experience in the transportation industry. Served for 10 years as the Chief Executive Officer of the Jacksonville Transportation Authority (JTA), which was created in 1944 as Florida's first expressway authority and one of six agencies in the country with responsibilities for building bridges, highways and operating a public transport system. His extensive career began in 1982, in which he served in a host of key leadership positions which ultimately left to his appointment as the agency's sixth CEO in 2001, until his retirement in 2012. He has an established reputation for innovation, professional excellence and technical expertise in the planning, design, commissioning and operational start-up of rail, bus and ITS infrastructure systems. Experience in managing large scale complex multimodal infrastructure (Highways/Bridges) projects and providing executive leadership as an organizational "change agent". Also, can serve as a senior adviser and client representative for governments and Board of Directors.
About the Author
Michael J. Blaylock
Read Michael's blog articles for perspective, opinion and information on transit and paratransit issues.