Demand Response Software from Ecolane
Smart Scheduling and Dispatching Made Easy
Scheduling and dispatching headaches are a thing of the past with Ecolane DRT, our turn-key, web-based demand response software. This state-of-the-art software solution is securely accessed via standard web browsers. It provides real-time, logic-based schedule optimization, providing your operation with a number of critical advantages, including:
Improved customer service
Improved customer and driver safety
Improved resource management
Higher productivity
Ecolane DRT explained in 90 seconds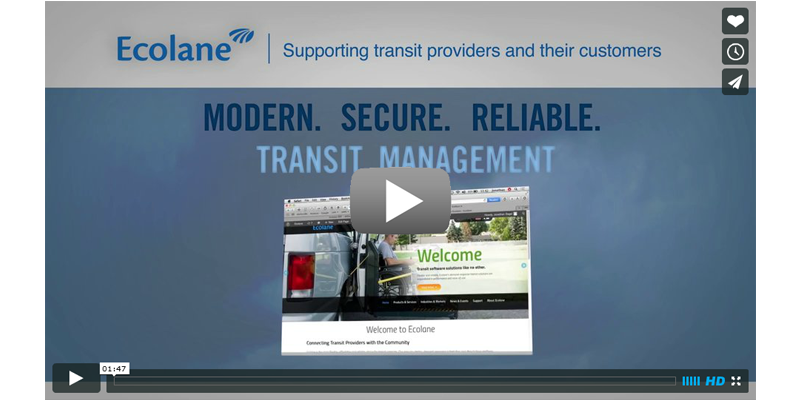 Better Management with Intelligent Tools
Your transit system can gain flexible and effective scheduling and better customer relations. Managers and dispatchers can perform their jobs more smoothly with continuously updated schedule optimization that responds immediately to changes. Find out how improved service translates into a better relationship with your clientele.
Easier and Smarter DRT Administration
Ecolane DRT's powerful,web-based supervision and administration tools put full, real-time control in the hands of your administrative staff. The integrated reporting system enables better forecasting and planning than ever before. What's more, the information gained throughout each operation can be utilized to enhance the quality of operations throughout your entire organization.
Fixed Route Management Options
Ecolane also provides management software for fixed route transportation systems. Our applications give your company the edge with passenger communication, schedule keeping and incident handling. No matter the size of the transit network, Ecolane can help keep it moving efficiently.
Increased Productivity through Automation and Integration
Integrated, fully automated processes save time and effort for your staff, allowing them to focus on operations. The end results are:
More productive employees
A less stressful working environment
Improved employee relations
Download the Ecolane_DRT_product brochure (PDF) and contact Ecolane today for a demonstration on how our Demand Response Software can benefit your transit operations by empowering you to provide the safest and best possible service to the community.