The RTD Van Go! ride-sharing service will deliver easy convenient transportation throughout the county
Wayne, Pa (Oct. 2, 2018)—In partnership with National Express, Ecolane released its first instance of mobility-on-demand (MOD) that services riders with and without disabilities for San Joaquin's Regional Transit District (RTD) through the new pilot program RTD Van Go! yesterday.
The service is 100 percent rider-controlled through a convenient app that they can download, self-register, schedule payment with a credit card, and book trips. The RTD Van Go! app is available on both Apple and Android platforms.
This on-demand mobility ride-share service helps all area residents travel with ease throughout Northern San Joaquin County in California. Every RTD Van Go! vehicle is wheelchair accessible and RTD Van Go! drivers are trained, licensed, and fully prepared to help with accessibility needs.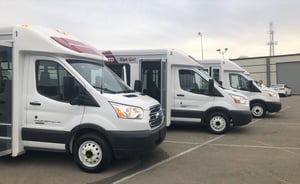 "Tailor-made trips are a click or call away with RTD Van Go!," said RTD CEO Donna DeMartino. "We are very excited to implement our first mobility-on-demand program that empowers all area riders to manage their own accounts with San Joaquin Regional Transit District," said Daniel Andrlik, Ecolane VP of Product. "With RTD Van Go! riders truly have complete control to register, schedule payment with a credit card, and book trips. Ecolane is continually working on innovative projects to expand mobility and independence across the country and we are confident that the RTD Van Go! pilot program will demonstrate the proof of concept for other transit organizations throughout the U.S." "Residents start where they are and go where they want - fast. This connected service combines vans and free transfers to fixed-route buses to continue longer trips. Unlike some other transportation options, RTD Van Go! will even pick up passengers in rural San Joaquin County."
At launch, the operational area for the service covers Northern San Joaquin County only with further expansion planned in January, 2019. Six vehicles for the RTD Van Go! fleet are available during the initial pilot phase, extending to 14 vehicles in January when the service is introduced countywide.
Update March 26, 2019: Check out the news video coverage on the success of RTD Van Go!
About Ecolane
Ecolane is the most flexible, affordable and reliable choice for transit provider managers, directors and decision-makers with responsibility for implementing easy-to-deploy scheduling and dispatch solutions. Ecolane's software platform restores community engagement to people who might not otherwise have access and mobility. With US headquarters in Wayne, PA, Ecolane is a technology leader in the demand responsive transportation (DRT) and the paratransit solutions market. For more information, please visit www.ecolane.com. Ecolane is part of the National Express family of companies.