October 24, 2018
Blue Bell, PA

Ecolane is pleased to announce the 2018 Pennsylvania Partner Conference for Ecolane DRT users. This Pennsylvania agency only event is returning to Blue Bell this year and we look forward to seeing all the representatives to celebrate the completion of this groundbreaking statewide initiative. Register today!
Be sure to also reserve your hotel room at the special rate at the Normandy Farm Hotel and Conference Center. You can book your hotel room using the following link and entering the "Group Attendee Code" from now until September 23, 2018. Don't miss the deadline. Reserve your room today! "Group Attendee Code" EUCONF
Please note room rate only applies to Tuesday night, but if you need to extend your stay Monday or Wednesday night, please let us know by e-mailing us at partners@ecolane.com.
*Please book early to ensure availability for onsite accommodations.
Find our event on EventsXD to follow your track and get the latest information about the conference. Download our EventsXD User Guide.
Our Keynote Speaker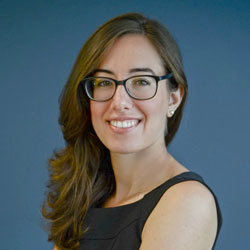 Ecolane is excited to announce our event's keynote speaker, Lauren Smith, CIPP. Lauren is Policy Counsel at the Future of Privacy Forum (FPF), where she focuses on big data and Internet of Things related to connected cars, data ethics, algorithmic decision-making, and drones. Lauren leads the FPF Connected Cars Working Group, and serves as an expert and thought leader across the country through speaking engagements, media interviews, and interaction with state and federal regulators and strategic partners.
Prior to working at FPF, Lauren was a Policy Advisor in the White House Office of Science and Technology, where she played a core role in the White House Big Data report, the launch of the Precision Medicine Initiative, and the policy initiatives around privacy, intellectual property, regulatory policy, and innovation for global development. She was previously a Research Associate for the Economic Policy at the Center for American Progress. Lauren is a graduate of Wesleyan University and the UC Berkeley School of Law, where she earned a Certificate in Law and Technology.
PPTA Training Sessions
If you're looking to make the Ecolane Partner Conference even more impactful, make sure you sign up for one of the two (2) PennTRAIN classes being offered both before and after. The training will be hosted by Suburban TransNet right in Blue Bell, PA. Tuesday October 23rd will be an in-depth Reporting Training and Thursday the 25th will be an in-depth Advance Scheduler Training.
Tuesday Night Welcome Reception & Social
We hope everyone will be able to come in early to join in the celebration as we take our tradition of mixing with play to a whole new level! Our social event on Tuesday, October 23rd, from 6:30 p.m. to 8:30 p.m. at Arnold's Family Fun Center (http://www.arnoldsffc.com/) will be something you won't want to miss! Special thanks to Suburban TransNet who will be providing shuttle service to and from the conference center and event site in Oaks, PA. We look forward to sharing food, drinks, games, and other activities with old and new friends alike!
2017 Partner Awards
As a reminder, this is the last chance to show off all that your agency is doing with Ecolane. Submissions are due Monday, September 24. Do you feel you've got the best OTP and are pushing the envelope on customer satisfaction? Ecolane would like to recognize your agency for all it's doing to improve the lives of Pennsylvanians! Fill out our quick online survey to toot your own horn about how your agency is the best of the best, and we'd like to recognize all the winners at this year's conference!
Survey Link: https://www.surveymonkey.com/r/LKYQ3HX
2018 Partners Conference Agenda
There will be two educational tracks available, one for operations staff and the other for executive management. Please note schedule below is preliminary and is subject to change.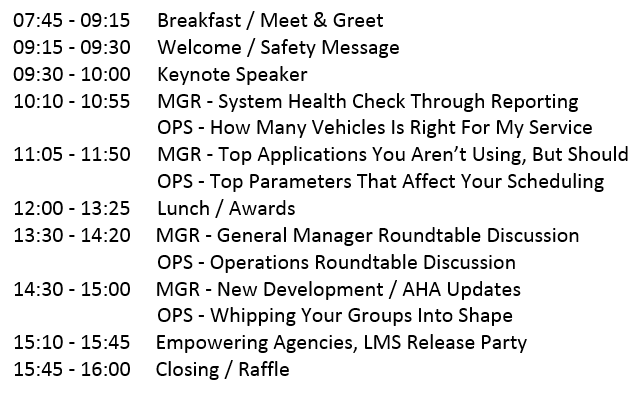 Some Basic FAQs
What are my transport/parking options getting to the event?
There will be free parking available at the conference facilities.
Can I contact the organizer with any questions?
Of course, feel free to send any questions you have about logistics and accomodations to partners@ecolane.com.
Is my registration transferable?
Yes. Anyone from your organization is able to participate with your registration.
Do I have to bring my printed ticket to the event?
You do NOT need to bring your tickets to the conference. We know who you are.
The name on the registration/ticket doesn't match the attendee. Is that okay?
That's fine.
Please note that by registering for this event, you understand that you may be photographed filmed, or videotaped when entering the premises and you hereby give Ecolane the right to take pictures and/or recordings of you and grant the right to use your likeness or image for future broadcast or exhibition in the Ecolane website, in the press, marketing material, and other publications without limitation. You hereby waive, release, and discharge Ecolane from and against any claims or actions arising out of or resulting from use of your image. Ecolane shall not be obligated to use, and may elect not to use, your image. Any questions or concerns regarding notification should be directed to 610-312-0033 ext. 115 or partners@ecolane.com.
Are you attending the 2018 PA Partner Conference? Let us know beforehand and we can organize an on-site demonstration.