It is in our nature to pursue freedom and live autonomously. We make plans. We set goals. We resent feeling confined, hindered, or even inconvenienced. This is demonstrated every day both on the individual level and on the collective level. So, people work together to create ease and convenience by obtaining suites of products and services. Transportation is no different.
Where have we been and what do we see looking ahead?
Well, what is the point of transportation? It's to connect people. So, having come from an age of established high speed travel coupled with the idea that modern societies are hyper-connected through ubiquitous Internet and social media platforms, it is natural that people's expectations have continued to grow.
Not only do people want to travel from one point to another as quickly and safely as possible, but now they want to do it on their terms. On-demand transportation makes this possible for everyone: students, tourists and vacationers, people with permanent or impermanent disabilities, the elderly, and anyone else who may not have immediate access to a personal vehicle. This type of transportation can be summoned by dialing the transportation agency and speaking to a scheduler, by logging on to an online self-service platform, or by using a mobile app on a smart device.
Specialized transportation markets have been developing for decades and the landscape continues to evolve in order to keep pace with the demand for easy and convenient travel. Paratransit, non-emergency medical transportation (NEMT), microtransit, and transportation network companies (TNCs) are just a few examples of these specialized services. Having options available to the public helps ensure everyone who needs a ride gets one quickly and easily, and just as importantly, it helps ensure they get the type of transportation they require.
How will all of this connect?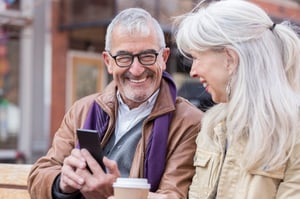 Due to growing advancements in technology and medicine, people are living longer, healthier lives. They are conscious of personal nutrition and environmental sustainability. Today's seniors are more active than any generation before; those nearing retirement will only move that trend upward.
It is a logical conclusion that as the world's population grows, the shift will move away from personal transportation and toward on-demand transportation distribution in order to meet the demand for safe, rapid mobility. Mobility as a Service (MaaS) represents this shift. As a single digital platform, it can connect riders with various modes of transportation to establish the fastest route from "a" to "b". In a single trip, a rider might use a ride-hailing service to get from one interval to another, a ride-sharing service to get to the next interval, and a taxi or bike to get to the final destination. At each interval, the connecting method of transportation would be ready and waiting, because it would be prescheduled. In addition, all payments could be made in one fell swoop either on a per trip basis or as a monthly subscription fee.
Are we There Yet?
The short answer is no. However, we're well on our way. There is much work to be done in terms of availability and infrastructure in order to ensure everyone's needs are met. As ride-hailing and ride-sharing services become ubiquitous, in conjunction with the rise of autonomous vehicles used by these providers, those responsible for financial planning and urban development will have to address new issues. Citizen data capture, revenue models, cybersecurity, transportation networks, and land-use allocation are just a few examples on a long list.
It is clear that the future of mobility will rely heavily on the implementation of the next generation technology. It will need to deliver convenience, expedience, a seamless rider experience, cost savings, and most importantly, safety for both riders and pedestrians. It is more critical today than years prior for transportation agencies to plan for the next 10 years and beyond because with every passing decade we are advancing more rapidly than the last.
---
Click below to find out more in-depth information about the changing transportation landscape, the growing market segments and the services available.
About the Author

Ecolane
Read Ecolane's blog articles for perspective, opinion and information on transit and paratransit issues.