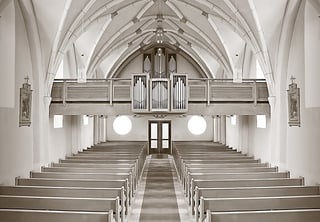 Before I left on the Cross-Country Local – last year's coast-to-coast trek on public transit – I checked in with a U.S. Department of Transportation analyst named Keith Gates. Recently retired from the Federal Transit Administration, he's the guy who knows possibly more than anyone else – certainly more than is healthy – about rural bus service in this country. I explained to him what I was going to do and he had some great advice.
The first bit was, "It can't be done." And he was right. Going by the DOT's definition of public transit, I wouldn't have made it a mile past the Susquehanna River on my way west. I'd done weeks of research to determine the exact corner in Enola, PA, where the trail grows cold. Gates knew it off the top of his head.
So then he came up with a few ideas that might get me through some of the more sparsely populated stretches of sagebrush.
"Did you know that the FTA funds church buses?"
No, Keith. No, I did not.
The highways were deserted, and travelers went by roundabout ways (Judges 5:6)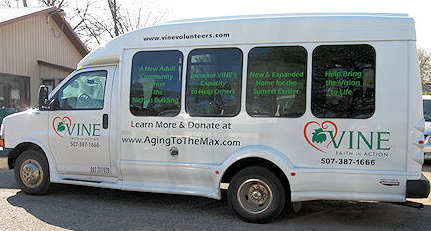 Some might argue that tax dollars paying for anything church-related is an unconstitutional violation of the separation of church and state. That is, of course, hogwash. If paying a reasonable fare gets me from one end of Copperhead County to the other, I don't care if the driver is an Evangelical, a Catholic or the Zuni Salt Mother. As a Jew, I'll be happy to just check into the next Hampton Inn rather than get excavated out of a dam.
"There are no government grants to do 'evangelistic work, soul saving, preaching, etc.'" correctly observes Gabriel Ministries, a Virginia-based faith organization that serves as a clearinghouse of grant information. So you can run a bus service to help indigent people in the community, but you can't run a hose from the radiator to a baptismal font in the aisle.
But aside from that, the FTA treats churches like any other private, non-profit organizations and thus they are generally eligible to receive assistance, according to the agency's website.
And that's why this is such a missed opportunity.
The church bus operating under a Section 5310 grant is public transit's equivalent of an alien spacecraft. I'm not saying it doesn't exist; in fact, I'm sure one does somewhere in the universe. But nobody credible whom I've spoken with has actually seen one.
The closest I've come to a sighting is via a network of volunteer organizations called Faith in Action, but calling that group a faith-based organization is a bit of a stretch. It is an interfaith initiative of the Robert Wood Johnson Foundation, a private philanthropy dedicated to improving people's health. Still, it does appear to have a slice of at least one state's Federal Transit Administration block. According to the Minnesota Department of Transportation, the Faith in Action branch in Mankato has received federal funding funneled through St. Paul. (Mankato is where you end up if you're driving from Des Moines to the Mayo Clinic and make a wrong turn.)
But Faith in Action might be limited by its brief, just like other rural providers. VINE Faith in Action, as the Minnesota branch is known, offers transit for both the elderly – in consonance with the Johnson gifts – and people who need help commuting to a job – which FTA would like to see more of.
But as for actual church buses being repurposed for public service and supported by federal tax dollars, not so much.
As noted above, Gates is retired, and it's not his job to know about this anymore. His old desk now belongs to program analyst Maggie Schilling. She looked. She didn't find any.
I also asked an academic, Tom Seekins, Ph.D., of the University of Montana, who was lead author of a 2007 paper titled "Faith-Based Organizations: A Potential Partner in Rural Transportation". He told me that, if Washington-funded church buses actually existed, they would most likely be located in the southeastern United States, and probably be affiliated with predominantly African-American denominations. All I can say is, if they have a bus, they don't have a web site.
But is federal funding even necessary for effective faith-based public transit? Maybe not. Catholic Community Services runs the Bisbee Bus through rural Cochise County, Arizona, out in the Sonoran Desert. According to recent tax records, CCS covers almost all of its $1.5 million/year budget from revenue, and doesn't take a dollar from grants.
Photo Credit: VINE Faith in Action
For the gate is wide and the way is broad that leads to destruction (Matthew 7:13)
FTA isn't the only source of church bus funding, by the way. One place where federal funding is starting to flow for this purpose is Evansville, Ind., a town famous for very little except being named by a Gallup poll as the most obese place in America. Evansville desperately needed more bus service because, obviously, they're not big on walking.
The city of about 120,000 people gets about $2 million/year in block grants from the U.S. Department of Housing and Urban Development. According to the Indiana Economic Digest, the New Hope Missionary Baptist Church established a shell company to operate the bus service they call Bridge Builders.
"The newly formed New Hope Community Development Corp. plans to use church buses to transport Center City individuals to job centers on the East Side and far North Side," reporter John Martin writes. "Mayor Lloyd Winnecke's administration recommended a $30,000 allocation."
(Evansville isn't that big. We're talking about five or six miles each way at the outside. Why not buy Bridge Builders $30,000 worth of bicycles and solve two problems?)



But as for you, go your way to the end (Daniel 12:13)
To restate an earlier point: There's nothing inherently wrong with churches receiving federal funds, as long as they're used for such public accommodation as transit and they're not trying to compel me to attend anything more sectarian than Bingo Night.
If we're to get persnickety about that point, then we'd have to settle ourselves on our respective fainting couches when considering a proposal recently made to the city council of Longview, Texas.
"During a March 10 City Council meeting, Mayor Andy Mack said he's asked City Manager David Willard to compile information on expanding Longview Transit service to Sundays," reports Jimmy Isaac of the Longview News-Journal.
Longview, an exit off I-20 west of Shreveport, runs six fixed-route buses and a demand-response van on days not set aside for worship.
"If we're taking people to work and back and places they need to go, then we should take them to church as well," the News-Journal quotes the mayor.
Longview Transit managers quickly responded that, as much as they'd like to do that, it would be more cost-effective to answer customer demand for extended weekday operating hours instead.
"I don't know that [operating on Sunday] can be done, but it will never be done if we don't look into it," Mack replied.